Camp Chef Pizza Stone for the Outdoor Camp Oven
There is no doubt that my outdoor cooking game went up a few notches when my friends at Camp Chef and OutdoorCooking.com sent me their new All Purpose Pizza Stone for the Camp Chef Camp Oven. Anytime I bake a pizza outdoors is hero time for my boys, me being the hero of course. Pizza in a Dutch oven, pizza on the grill and now pizza in my Outdoor Camp Oven, making the Outdoor Camp Oven an indispensable camping item for me. With a two burner stove and oven combo, there is no limit to what I can cook outdoors with it, well … anything that fits in it I should say! I can just imagine someone suggesting I prepare a Moose shank or a full brisket – I can always try!
Camp Chefs new Pizza stone is cut to perfect dimensions to fit in the Outdoor Camp Oven 10.5″ x 14″ x 7/16″ and easily fitting the Professional Barbeque Grill Box for Camp Chef Three Burners stoves. Not only is it ready to cook with right out of the box, you can use it in your RV oven, kitchen oven and just about any charcoal or gas grill out there including the Camp Chef Smoke Vault!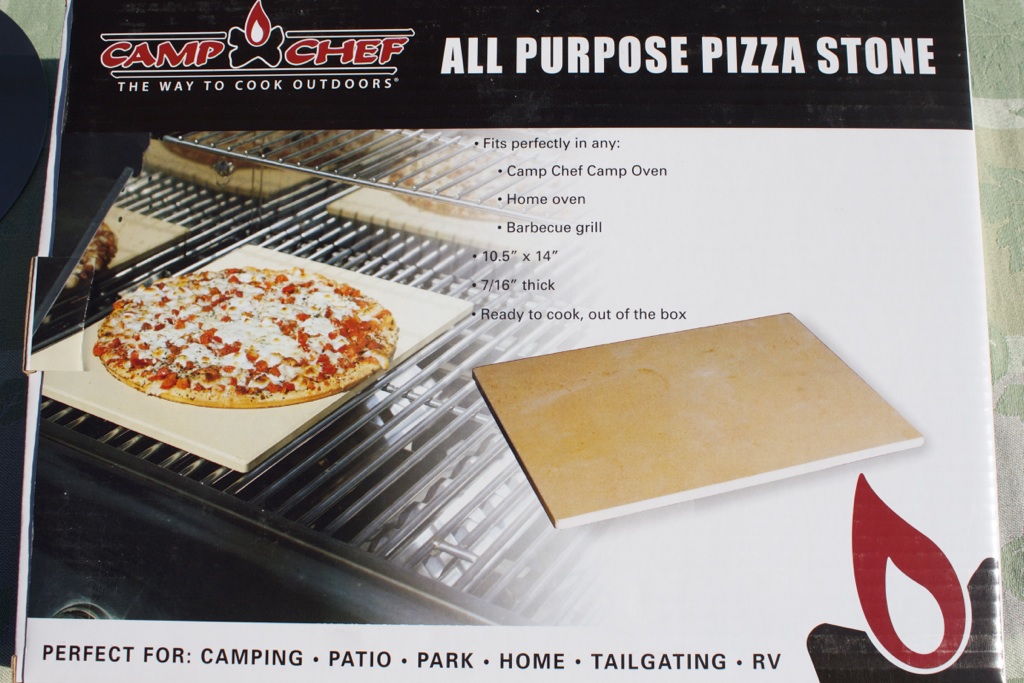 Don't let the name "Pizza Stone" limit your creativity, there are many more culinary creations that can go on a Pizza stone: bread, biscuits, pie crust deserts, and cookies for example.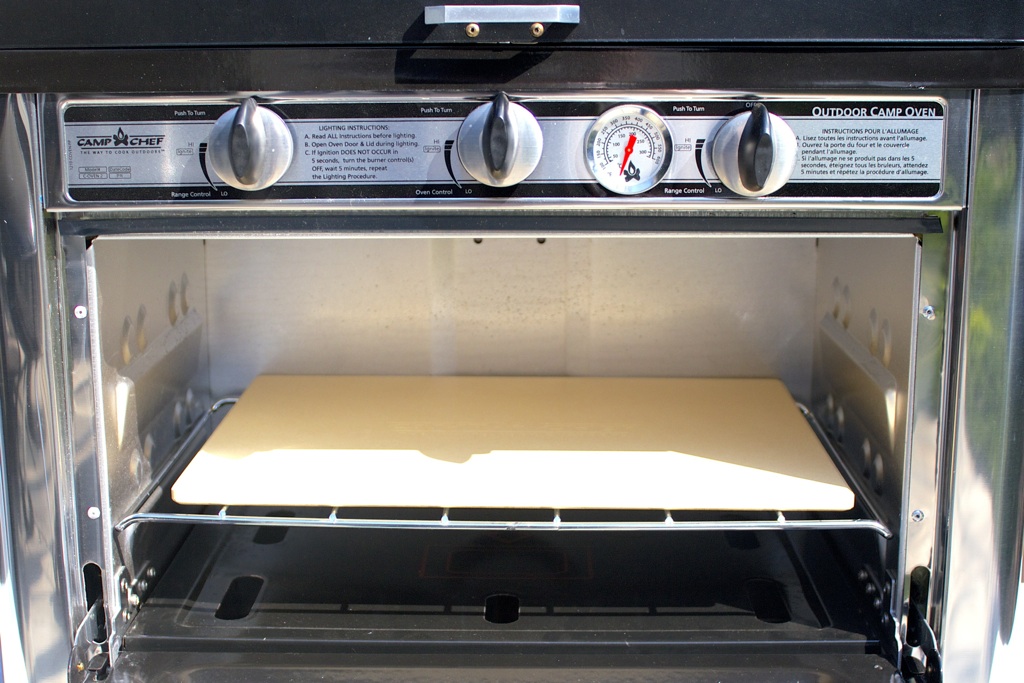 First things first, you need to pre-heat your Outdoor Camp Oven and Pizza stone at the same time. Do not place a cold stone in a hot oven, it will crack or shatter. Pre-heat your pizza stone and oven for at least 30 minutes to get the Pizza stone fully heated.
I decided to try a new recipe for a Taco Pizza and of course, one of the boys favorites a Pepperoni Pizza.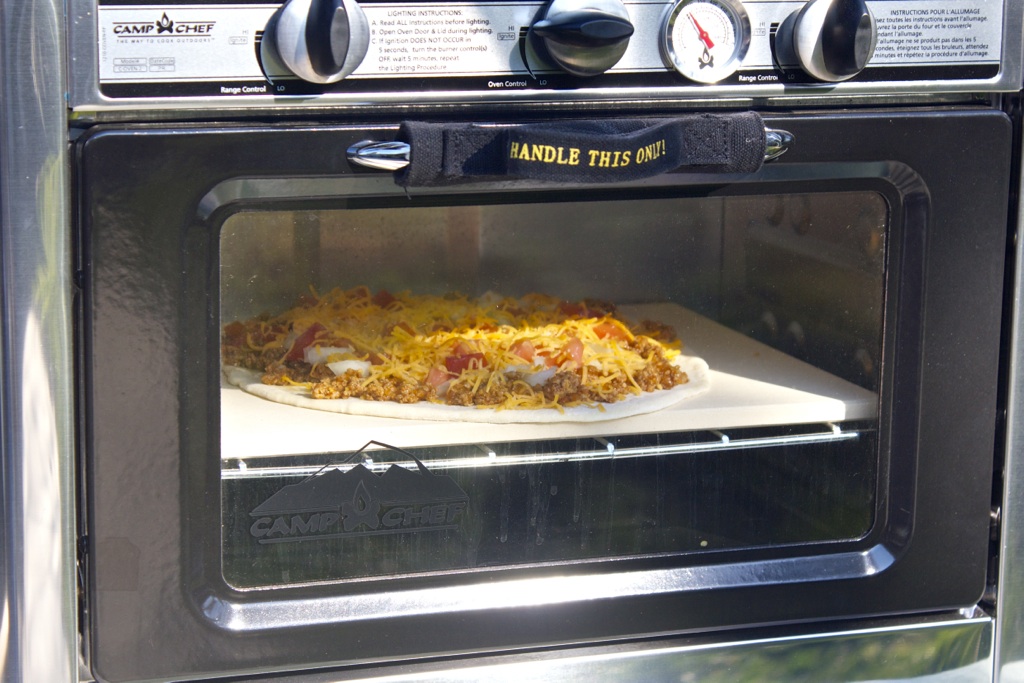 This recipe was inspired from leftover tacos we had for dinner the other night. Not enough to feed the family again but plenty for a small pizza.
Taco Pizza Ingredients
Seasoned Taco meat
Diced onions
Diced tomatoes
Sharp Cheddar cheese
Shredded lettuce (after baking)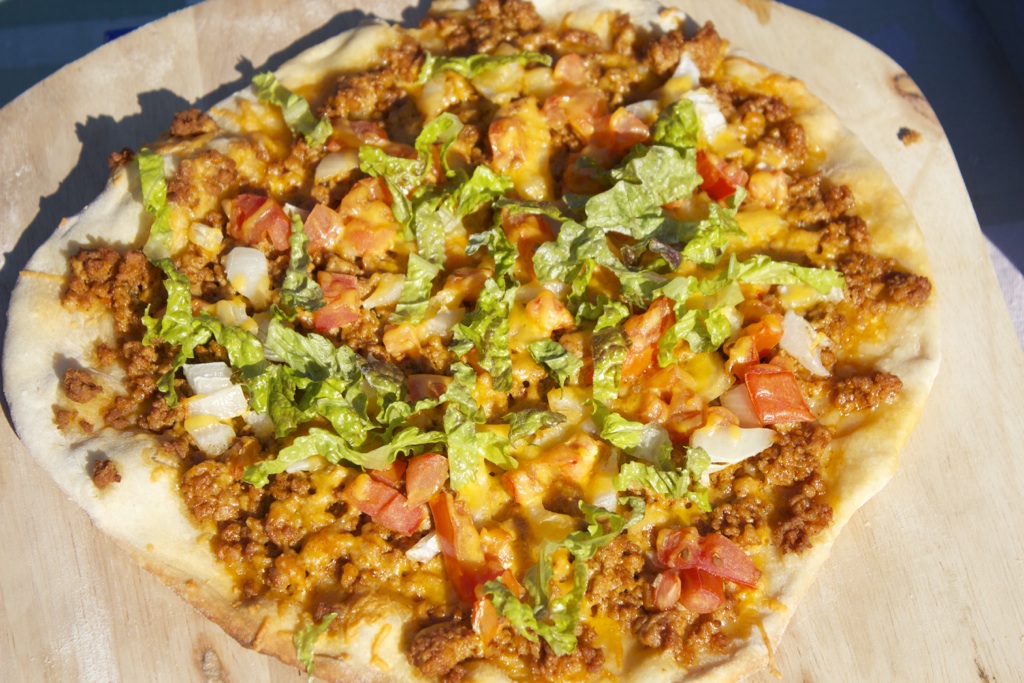 Next was the boys peperoni pizza. Pepperoni, cheese and sauce.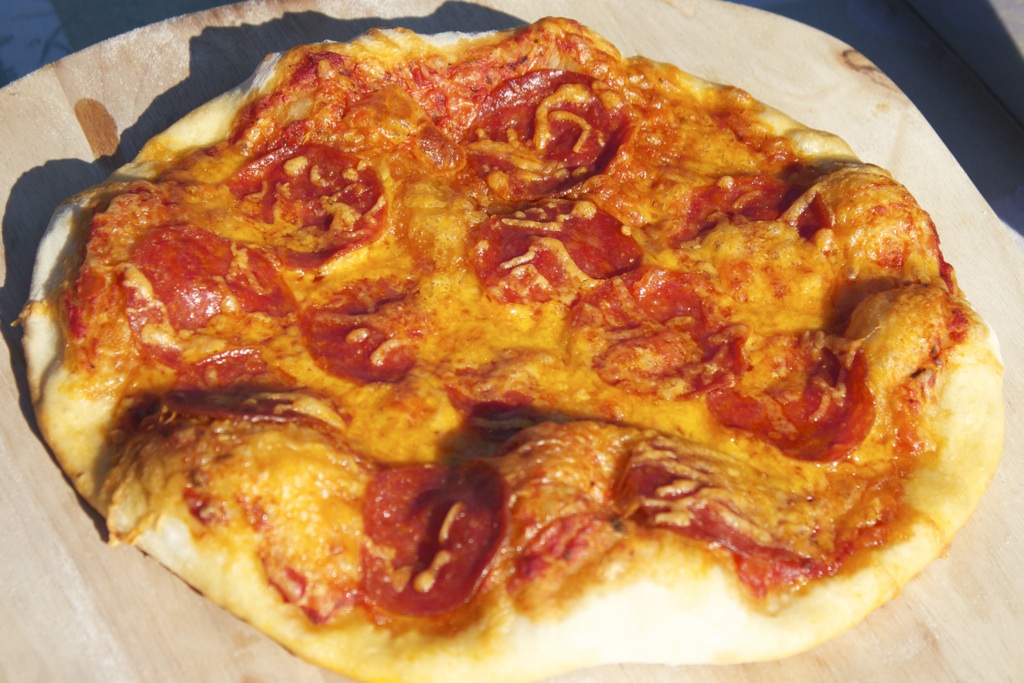 Cook time was 15 minutes for a 10″ pizza.
The overall results were fantastic! The Camp Chef Outdoor Camp Oven and the New All Purpose Pizza Stone did a great job. Each pizza had a crispy crust and the top ingredients were done, no mushy middle just a nice bubbly topping. The pizza stone is made of Cordierite Ceramic and will last a long time with proper care, which should only consist of an occasional warm water wash and a scraping of food bits from the surface. Over time your Pizza stone will darken with use and become increasingly nonstick.
So this was a big win for me and my family!