Earlier this year I became one of the founding members of Operation BBQ Relief, an organization created by BBQ lovers to help provide meals during natural disasters throughout our country. I follow their activities closely as I admire their dedication and purpose to help all those people suffering from their tragic losses, serving hot BBQ meal 24/7 for many days at a time. Volunteers drive for hundreds of miles and business donate thousands of pounds of supplies so Operation BBQ Relief can make all that they do happen.
Hurricane Isaac has landed and is wreaking devastation to the Gulf Coast. Operation BBQ relief has mobilized and they need everyone help. Below is the email they sent me. If there is any way you can help out, please do and thank you!
Operation BBQ Relief, Inc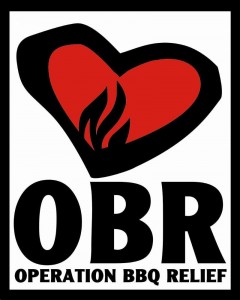 August 27, 2012
Dear Gary, 
Operation BBQ Relief Response to Hurricane Isaac! 
Operation BBQ Relief is responding to Louisiana! 
We have made the decision to deploy resources to the New Orleans area to provide warm meals to those in need. With over 650,000 people without power and more people being evacuated from the New Orleans area due to flooding there is a need for groups like ours to provide meals to those displaced and first responders working around the clock. 
We need your help! Below are our needs: 
1 – Volunteers: If you would like to volunteer to help cook and serve food with us in New Orleans please email us at: info@OperationBBQRelief.org We are planning to set up on Friday. The location still needs to be determined, we are working with the local Emergency Operations Center on a good location. 
2 – Food and Non-Food Supplies – We are projecting to serve 2500-5000 meals a day. Here is the list of items we need: 
Protein – pork butt, pork loin, sausage, chicken, etc
Vegetables – # 10 cans
Chips – individual serve bags
Fresh Fruit
Water and Gatorade
Aluminum Pans (full sized)
Aluminum Foil (large roll wide)
Disposable Rubber Gloves – Large and XLarge
Clam Shells
Flatware
Paper towels
clorox wipes and spray bleach
serving utensils
etc… I am sure we are missing some things but these are the basics. 
3 – Monetary Donation – Lastly, if you are unable to volunteer and do not have the ability to help with items needed above you can always go to our website and make a monetary donation. Every little bit helps! Go to: www.operationbbqrelief.org and click the donate button on the left side! As a 501c3 non profit your donations are tax deductible. 
Thank you for your continued support! 
Stay tuned to our facebook page for updated information! 
We pray for all the displaced families that have effected by Hurricane Isaac! Thanks Again! 
If you have not liked us on Facebook please go to: www.Facebook.com/OperationBBQRelief or on twitter at www.twitter.com/OpBBQRelief
Sincerely, 
Operation BBQ Relief