Beer of the Month Club from Amazing Clubs

I love beer, the more variety the better. I don't get the session beer concept (Drink as many as you can in one sitting) any longer, that I am sure, comes with age. Quality has become more important that quantity, uniqueness over common and flavor has now become paramount.  Finding great beer is difficult when you live in a small town and I have pretty much ran through the whole collection at the local supermarket. Of course I have my favorites and have shared a few of them on Cooking-Outdoors.com from time to time.
Always looking for new items to share on Cooking-Outdoors.com and of course always questing for a new beer or two, I came across the perfect solution to my Craft beer dilemma! Amazing Clubs! As in www.AmazingClubs.com "Beer of the Month Club"!
Beer of the month! How perfect can that be?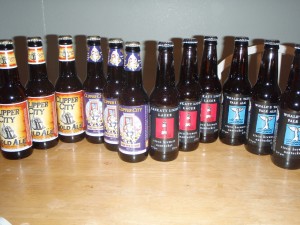 Amazing Clubs provide the Beer connoisseur new Craft beer every month, delivered right to your front door. When I received my Beer of the Month Club package I was so excited, new beer, on my front porch! Wow, it doesn't get better than that!
Every month www.AmazingClubs.com sends out a new club selection, with 30 clubs to choose from you will have everything your heart could possibly desire.  Some of the monthly clubs include:
Cake of the Month Club
Cheese of the Month Club
Coffee of the Month Club
Desert of the Month Club
Popcorn of the Month Club
Salsa of the Month Club
Steak of the Month Club
Wine of the Month Club
and even a Lobster of the Month Club!
My Beer of the Month Club selection was from two featured brewers: Clipper City Brewing Company and Cisco Brewers. 12 Craft beers total
3 – Balto Mãrz'Hon, from Clipper City Brewers
3 – Clipper City Gold Ale, from Clipper City Brewers
3 – Whale's Tale Pale Ale, from Cisco Brewers
3 – Sankaty Light, from Cisco Brewers
All 12 Craft beers were extremely well packaged and arrived undamaged due to the specially designed shipping case. Inside with my Beer of the Month Club selection was "The Frosted Mug" newsletter a publication of Amazing Clubs. Both Brewers were highlighted in the newsletter allowing me to learn about each brewer and their beers. The history of each brewer and a description of each beer. My first two beers were consumed reading the "The Frosted Mug".
It's hard to decide what was my favorite this month, 4 beers to choose from, all enjoyed to the last drop, still left me undecided. Probably the Clipper City Gold Ale, being a Bronze medal winner at the Great American Beer Festival in 2000 helped. These were all quality Craft beers from really good breweries. No back yard bucket brews here. I enjoyed every one.
Beer of the Month Club receives my recommendation for the following reasons:
Excitement factor. It is a true surprise to open that box and see what you are getting this month.
Quality. Name brand Brewer's, excellent selection.
Packaging. Rock solid! Give it your best big Brown it's not going to break.
Information. I love the newsletter! Great info.
Taste. I even gave a couple of beers to a friend to try and received a big hearty thank you for the great beer! Fantastic beers.
Here is a recap of what you get from the Beer of the Month Club:
• 12 bottles of hand-crafted beer every month!
• Beer lover's newsletter with every shipment!
• FREE SHIPPING every month!
• Personalized gift announcement!
• 100% satisfaction guaranteed!
• Hassle Free – Our experts choose all monthly selections!
Visit Amazing Clubs to view their complete selection of Monthly clubs at www.AmazingClubs.com or give them a call at 1-800-507-4660. Enjoy!