BBQ Brie with Peach Habanero Jam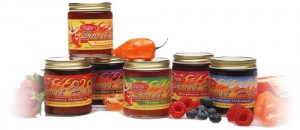 You just can't go wrong with BBQ'ed Brie cheese and yes you can barbecue cheese. With company coming over and that dreaded pre-meal time when the BBQ isn't quite ready, your stomachs growling and your drink is half empty, it's time to break out the Hor´ Devoursor as us simple grillers like to call it "Belly Warmers". BBQ'ed Brie with Peach Habanero Jam is a really yummy "Belly Warmer" inspired by a recipe from Diane's Sweet Heat Habanero Jams out of Mckinleyville, a small town in Humbolt County, California.
I was surprised when I received a email from Diane asking me to try a sample of her jams, that was a first for me and a pleasant first it turns outs. I usually try various rubs and sauces but not a jam for my toast, or so I thought! Diane sent me a sample of her Peach Habanero Jam (mild version) and I knew this wasn't going on my toast, I was BBQ'n with this stuff!
Diane makes several varieties of Jam: Blackberry, Blueberry, Mango, Peach, Strawberry and Cranberry. The ingredients are simple and devine: Pure cane sugar, Fruit, Red Bell Pepper, Habanero Peppers, Apple CiderVinegar and Pectin. 4oz jars come in Mild or Medium  for those that like a little burn.
My BBQ Brie was just as simple as could be:
Place a round of Brie on a preheated grill 350° F for about 10 minutes depending on the size of your Brie. Mine came with a little wood tray that I soaked in water for 5 minutes. This was used under the Brie and in my Cast Iron skillet to prevent burning and a mess if the Brie casing opened.
Using a cast iron melting pot to heat my Peach Habanero Jam on the grill also, just enough to warm it up. Remove the Brie, place on your Hor´ Devours plate (Belly Warmer plate), cut a small wedge out of and all of the wonderful warmed Brie will ooze out onto the Hor´ Devours plate (Belly Warmer plate), pour your Peach Habanero Jam over that and start spreading this wonderful flavor sensation on a cracker. You just might forget about that BBQ!
Besides the simpleness of this recipe the Peach Habanero Jam was just fantastic! Peach sweetness that can only be found from just picked peaches and the wonderful heat of Hanabero chilies was and unexpected surprise! The Brie was gone in minutes with finger licking satisfaction. When our guest left she request that it be served during the next visit (no mention of the BBQ! Go figure)
Diane provide a nice little flyer with an assortment of recipes to try: Sweet Heat Dip, Rita's Sweet Heat Salad Dressing, Diane's Sweet Heat Thumb Print Cookies, Sweet Heat Mango Chicken, Brian's Baked Shrimp Wrapped in Bacon and Aunt's Sue's Sweet Heat Salmon. As well as a few serving suggestions: Spread over a bagel with cream cheese, Marinade or baste your favorite meats or fish and Serve over ice cream, cheesecake, or yogurt. Mouth watering yet?
At $5.00 per 4oz jar plus shipping, you really have to give this a try!
Where can you get this?
www.Dianessweetheat.com
dianessweetheat@yahoo.com
or call
Diane Hunt
707-839-2919
Diane, I must say that your Peach Habanero Jam is fantastic! Thanks for sending Cooking-Outdoors.com a sample and if you want to send me the other flavors ….