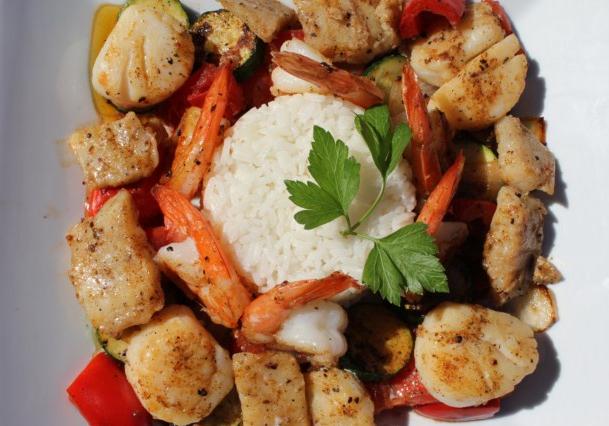 Today's grilling recipe is the winning entry for the Great Island Grillstone recipe contest running over on the Island Grillstone Facebook page. Our winner Tom Symington, submitted his Grilled Seafood Kabobs recipe for the first week of the Island Grillstone giveaway. As promised, I prepared the seafood recipe on my Island Grillstone, grilling pieces of shrimp, paddock, scallops and mixed vegetables, seasoned with the famous Old Bay seasoning. This recipe is as close as I could get to Tom's winning entry and I must say, it was a delicious dinner. The Island Grillstone performed as expected, grilling the delicate seafood pieces and vegetables to perfection. No flare-ups, no lost food between the grates, tons of flavor and lots of color, all easily prepared and grilled within minutes. If you are looking for a fast, easy and delicious recipe for your grill, this could very well be a winner on your grill also!
Here is Tom's winning entry:
I'd use it to do an old favorite in a new way. Seafood kabobs, minus the stick on the Island Grillstone.
12 lg scallops
24 lg shrimp
2 lbs of fish steaks cut into lg cubes
zucchini sliced
fresh from the vine cherry tomatoes
small onions
fresh from the garden peppers (various colors)
Usually topped with old bay seasoned butter or olive oil.
I think this recipe on the Island Grillstone would cook more evenly and allow the cook to focus less on the inevitable flare up thus providing a higher quality taste than I've ever pulled off before.
I did make a couple of changes. Scaled back the portions to feed 4 people, changed out cherry tomatoes for cubed Roma tomatoes and guess at the seasoning quantities. Added some rice to the meal but wished I would have included a nice green salad and fresh french bread to round things out. Overall, this recipe was a big hit here in the outdoor kitchen.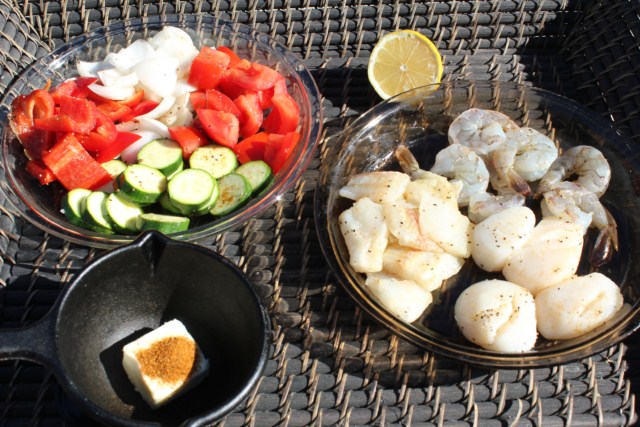 Best advice I can give for grilling the Seafood is Mise en place (pronounced [miz on plas], literally "putting in place") is a French phrase defined by the Culinary Institute of America as "everything in place" – Wikipedia.
Prepare all of your ingredients first, then grill. This recipe grills very fast so you need to have everything at the grill and ready to go.
Vegetables and seafood were lightly tossed with extra virgin olive oil, coarse salt, fresh grated black pepper and Old Bay seasoning.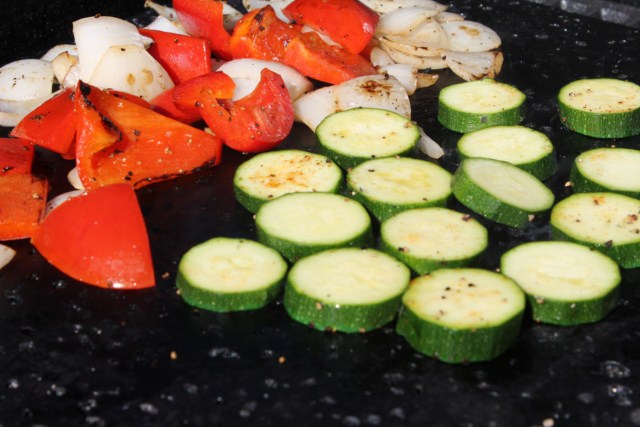 Vegetables went on the Island Grillstone first, grilling for everything only took a few minutes each. Onions and red peppers first, toss a few times, then add your zucchini.
Note: I pre-heated the Island Grillstone for 25 minutes before starting to grill. Grilling temperature was 350° F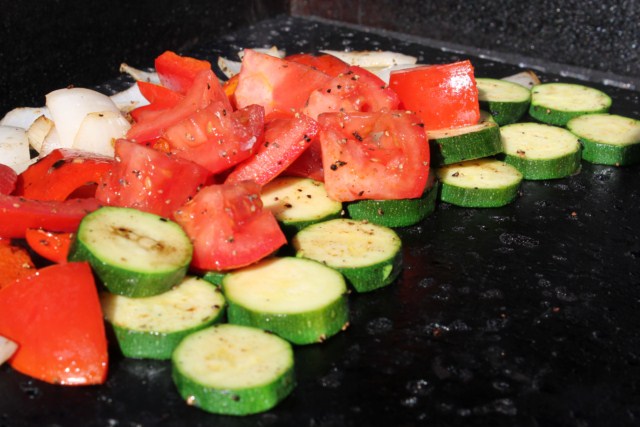 My tomatoes were added last of all the vegetables, just throw on top to stay off the direct heat of the grillstone.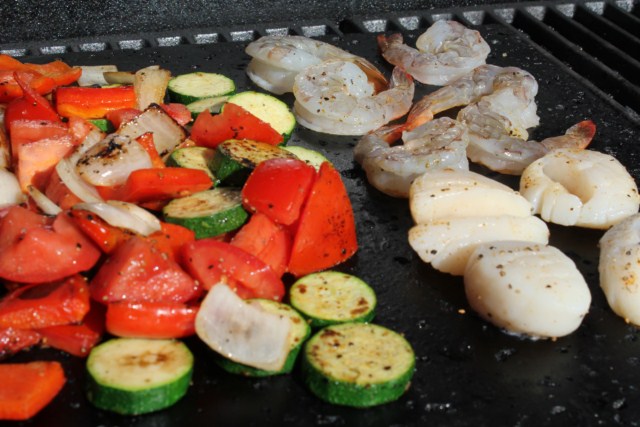 Scallops and shrimp were added next, time to see how well the Island Grillstone caramelized the scallops. Just a few minutes on the first side.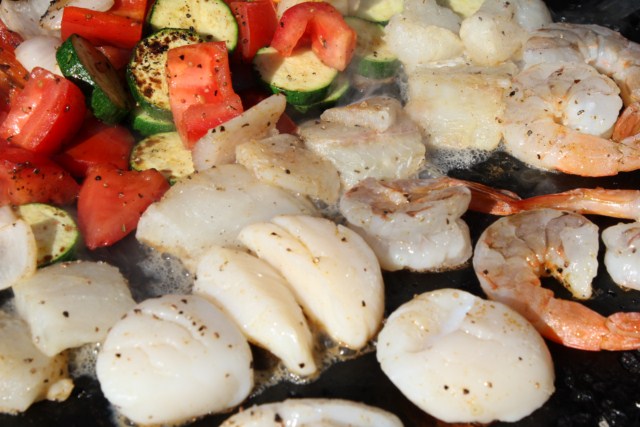 Fresh fish added to recipe just before it is time to flip the seafood. Grill time is fast here, you don't want to over cook your seafood.
Note how caramelized the vegetables have become! Still crisp, yet developing a beautiful color while it is on the grill.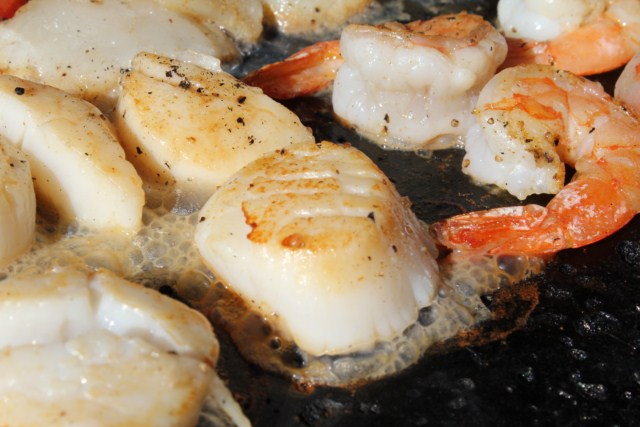 Look at the color of those scallops! Just a few minutes on the grill and flip!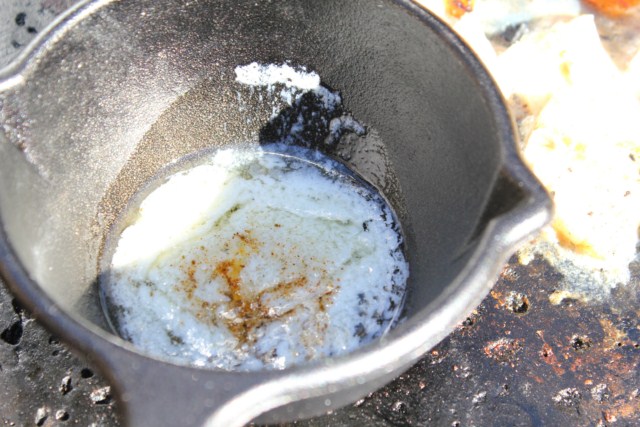 I wasn't sure what "Old Bay seasoned butter" was, so I melted 2 tbs of butter and a tsp of Old Bay seasoning in the cast iron butter pot to pour over the seafood recipe. The butter pot goes right on the Island Grillstone.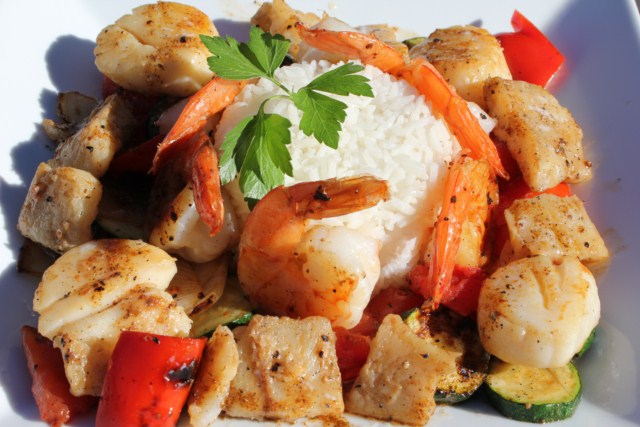 Grilled seafood, plated up with a bit of rice, Old Bay seasoned butter drizzled over the top.
Tom, this was a great seafood recipe idea and I had a fantastic time putting all of this on the grill. No doubt you'll do the same when you receive your Island Grillstone. Send me a few pictures!
The Great Island Grillstone giveaway is going on through September 31, 2012!
Related Reading: