Char-Broil Big Easy SRG Review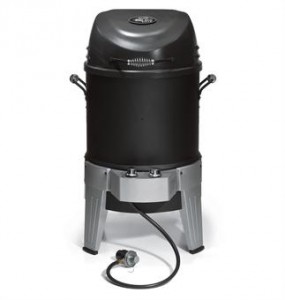 I am now the very fortunate owner of a Char-Broil Big Easy SRG! "Smoker Roaster Griller" that is. Char-Broil sent me a unit to review recently and I couldn't have been more surprised when it arrived. As you are well aware of, Char-Broil is an innovator in the grilling world and the SRG is no exception. What could be better than a backyard cooker that Smokes, Roasts and Grills, is about the size of a large Ice Chest on it's end, uses propane and mimics a Turkey Fryer without that messy hard to dispose of  oil and I think does a better job of it!
To dispel the foul cries of the skeptics, I filmed the whole review, from opening the box to my first cook. This way there is no doubt in anyone's mind that this is a great unit to add to your arsenal of Outdoor Cooking equipment.
Ladies and Gentlemen! The Char-Broil Big Easy SRG!!!!
Features:
Stainless Steel Smoker Box
Roasting Basket and Lifting Hook
Stainless Steel Grilling Grate
Half-Racks for the Smoker, Roaster & Grill – Set of 2
Meat thermometer
Stay-cool handles
Grease collection tray
Variable temperature control
Rotary ignition
Roasting Basket accommodates turkeys up to 25 lbs
Grilling Grate measures 15″ dia
Just awesome!! What's next? Ribs, Pork Chops, Baked Potatoes, Corn on the Cob and much more! Your going to see me putting the SRG through it's paces and I will be sharing it all with you!
Thank you Char-Broil for supporting Cooking-Outdoors.com!
Please visit my new YouTube channel, subscribe, vote, like, leave a comment! It all helps to support Cooking-Outdoors.com
Thanks … till next time.
Gary