Chicken Asparagus Mushroom Alfredo Grilled Pizza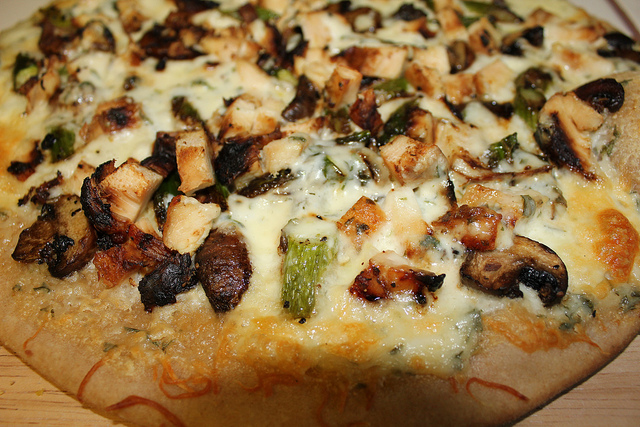 Having some leftover Honey Mustard Grilled Chicken from the other day, lead to this grilled pizza recipe. Actually, a walk down the grocery aisles thinking about what to do with that single piece of Honey Mustard Grilled Chicken was the reason for this recipe. When I made it to the pizza sauce aisle, I realized exactly what had to be done to maximize that solo piece of chicken. However, I decided to make a White Alfredo sauce with asparagus and mushrooms to make it a bit more palatable. Homemade White Alfredo sauce on the grill to be exact, but that is a future article.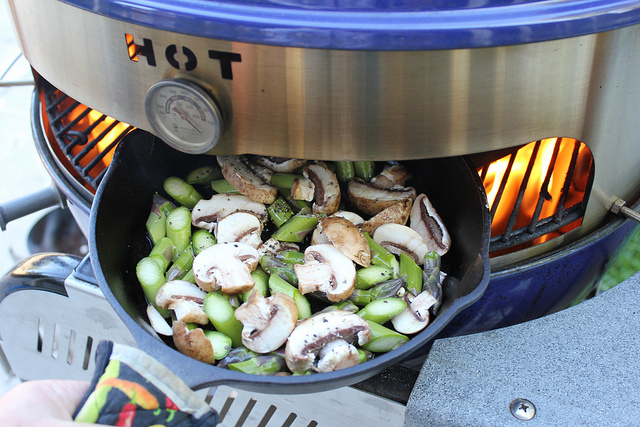 Using my Kettle Pizza accessory on my charcoal kettle grill make everything so much easier when grilling pizza. I am able to cook hot and fast as pizza is best cooked. I needed to cook my asparagus and mushrooms a bit before adding them to the pizza, otherwise they would be to tough to eat. At 700 degrees F the Pizza Kettle was a perfect fit for doing this chore.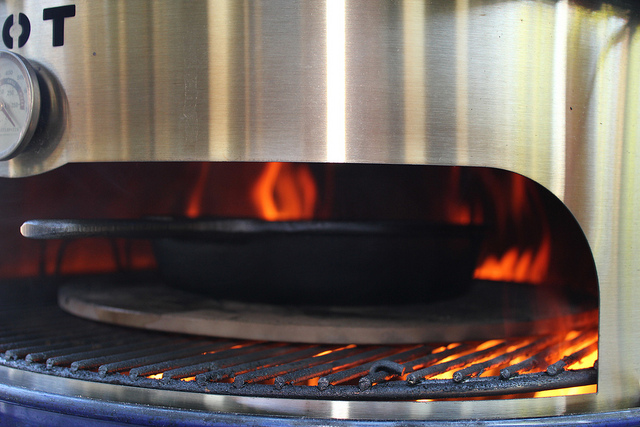 A little extra virgin olive oil and my 8 inch cast iron skillet filled with sliced asparagus and mushrooms took all of four minutes to cook.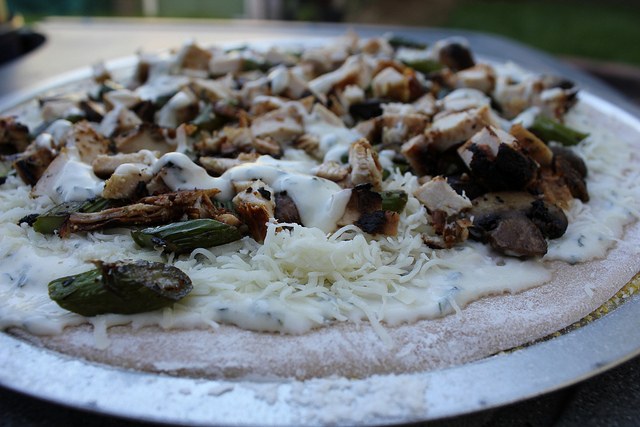 Once the asparagus and mushrooms were finished cooking in the skillet, I could make the pizza. I used pre-made whole-wheat dough for the pizza crust, homemade Alfredo sauce for my base; then added the grilled chicken, asparagus and mushrooms followed by a nice helping of mozzarella cheese. Then topped with a little more Alfredo sauce.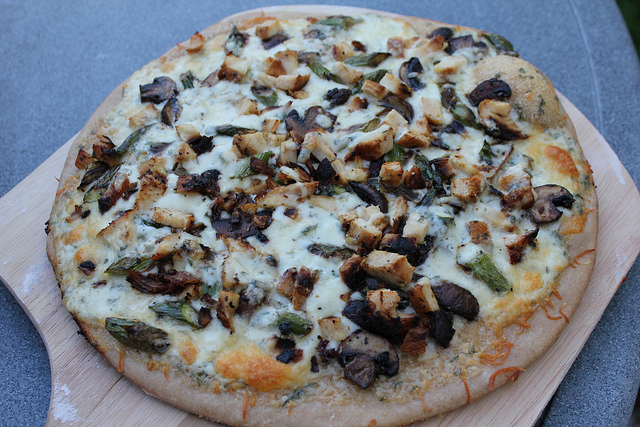 At approximately 700 degrees F the Kettle Pizza Accessory made fast work of this pizza! It took all of 8 minutes to cook partially because of the whole-wheat dough being a thicker crust. A thinner crusted pizza would have cooked in 5 minutes with just one spin in the kettle.
Did it taste good? Yes and that is a big YES! The homemade Alfredo sauce was just perfect, the ingredients and blended well with a crispy crust pizza base to balance it all out.
You can find the Kettle Pizza accessory at www.KettlePizza.com