Foil Cooking Cod on the Grill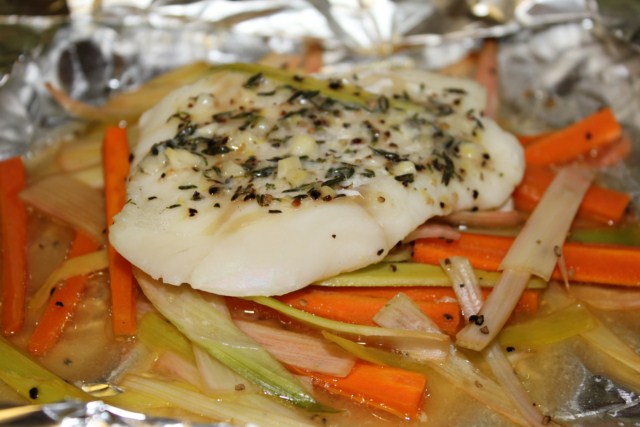 Here is another great recipe from America's Test Kitchen that I converted to the grill. A sure winner for all of the grilled fish recipe lovers out there! This recipe requires foil cooking which is perfect for the grill. The flavors and taste layers were just fantastic with hints of sweetness, a soft crunch of carrots, fresh herbs and a butter baste that melts the fish in your mouth. Using a foil cooking pouch on the grill makes clean-up fast and easy after grilling.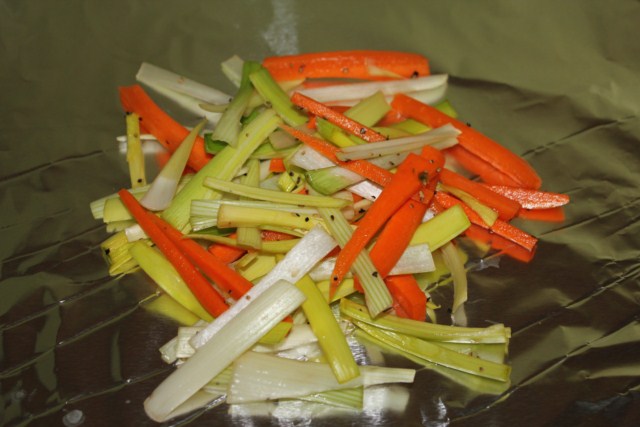 Easy 2 inch matchstick cut leaks and carrots in foil packet.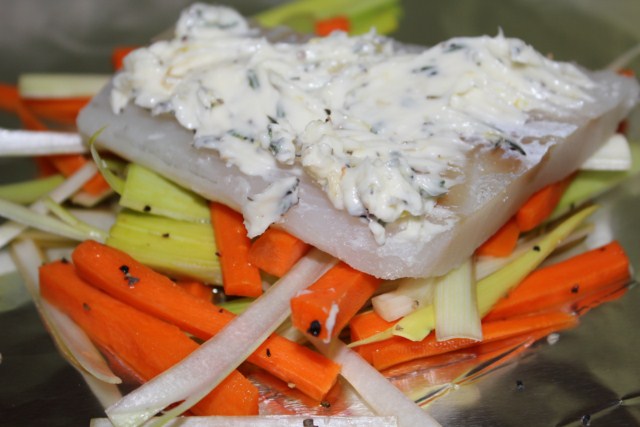 Recipe ready to go on the grill! 450° F indirect heat for 15 minutes!
This recipe was received with a "Can you make more dad?" from my youngest son who does not eat fish! Considering how fast and easy this was to make, my answer was "Yes!"
Foil Cooking Cod on the Grill
Author:
Americas Test Kitchen
Recipe type:
Foil cooking on the grill
Prep time:
Cook time:
Total time: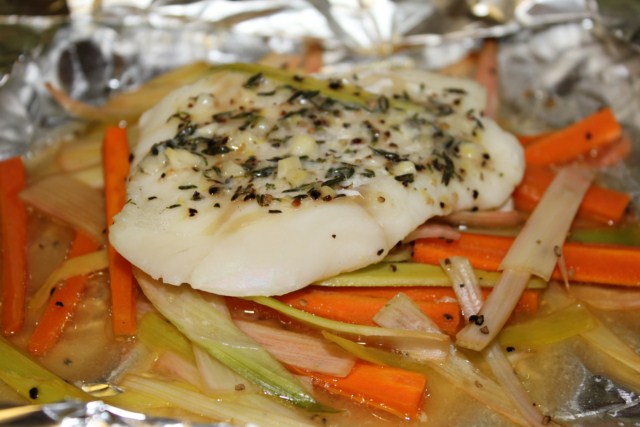 Ingredients
4 Tablespoons unsalted butter
1 lemon
2 garlic cloves
1 Teaspoon minced fresh thyme leaves
table salt
ground black pepper
2 Tablespoons minced fresh parsley leaves
2 carrots
2 leeks
4 Tablespoons vermouth or dry white wine
4 skinless cod fillets 1 to 1¼ inches thick (about 6 ounces each)*
4 12" x 12" sheets of aluminum foil
Instructions
Pre-heat grill to 450, indirect heat.
Soften 4 tablespoons butter on counter for 30 minutes.
Grate lemon zest.
Cut 1 lemon into wedges.
Peel and mince 2 garlic cloves.
Mince thyme.
Mince parsley.
Peel 2 carrots and cut into ⅛-inch-thick matchsticks.
Trim off and discard dark green parts and root ends from 2 leeks.
Cut leeks into ⅛-inch-thick matchsticks.
Combine butter, ¼ teaspoon lemon zest, 1 teaspoon garlic, thyme, ¼ teaspoon salt, and ⅛ teaspoon pepper in small bowl.
Combine parsley, remaining 1 teaspoon zest, and remaining 1 teaspoon garlic in another small bowl; set aside.
Place carrots and leeks in medium bowl and season with salt and pepper.
Divide carrot and leek mixture among foil sheets, mounding in center of each.
Pour 1 tablespoon vermouth over each mound of vegetables.
Pat four 6-ounce skinless cod fillets dry with paper towels.
Season fish with salt and pepper.
Place 1 fillet on top of each vegetable mound.
Spread one-quarter of butter mixture on top of each fillet.
Notes
* Haddock, red snapper, halibut, and sea bass also work well in this recipe as long as the fillets are 1 to 1¼ inches thick. Visit http://www.americastestkitchen.com