Welcome to Cooking-Outdoors.com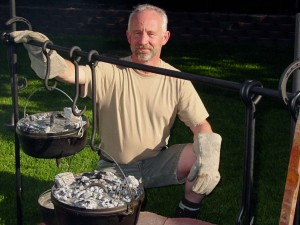 Hello and welcome to Cooking-Outdoors, my name is Gary House.
By visiting us today, you have shown that your primal urge to cook your food outdoors is coming alive. Man has cooked his food over an open fire for millions of years and this lost art has become the subject of many cooking shows and is at the forefront of the culinary arts world.
Cooking-Outdoors was established in 2008 and has grown exponentially since. I am the host of "Cooking Everything Outdoors" featured on iTunes and YouTube and I am regularly featured on the Outdoor Cooking Channel, TMP Outdoors and Country TV, New Zealand. I have judged many cooking competitions including the World Championship Dutch Oven Competition in Utah.
Here at Cooking-Outdoors you will learn everything you need to know, and then some, about grilling, true BBQ, Camp-style cooking and Dutch oven cooking. I will share with you some delicious recipes, tips, techniques and my own secrets to creating the best food you have ever had.
From me to you, I want to thank you for visiting us and welcome you to come back often. I like to cook outdoors and am always coming up with new recipes and techniques that you are sure to enjoy.
Sign up for our emails and have all that information and more delivered right to your inbox. I value your feedback, if you have any questions or concerns contact us and I will get back to you right away.
You can also find all of Gary's outdoor cooking adventures on:
Founding member of C.C.D.O.A. "Central California Dutch Oven Adventures" www.ccdoa.webs.com.
Featured on the American Grillmaster Experience (July 2013 Grillmaster), Raley's Facebook, Bob's Red Mill Facebook, Camp Chef, Char broil, GardenFork.TV websites and the Big Wild radio show as well as a demonstrator at Orange County Fair, International Sportsman Exposition, Bass Pro Shops and various regional retail outlets.
The "Cooking Everything Outdoors" show video series is a huge hit and can be found on YouTube, iTunes, Blackberry, and Zune .
Gary is available for product reviews, classes, demonstrations, interviews and sponsorship opportunities. Please contact Gary at anytime at via this form: [contact-form to='info@cooking-outdoors.com' subject='Cooking-Outdoors website feedback'][contact-field label='Name' type='name' required='1'/][contact-field label='Email' type='email' required='1'/][contact-field label='Comment' type='textarea' required='1'/][/contact-form]