Greek Chicken and Lemon Roasted Potatoes Recipe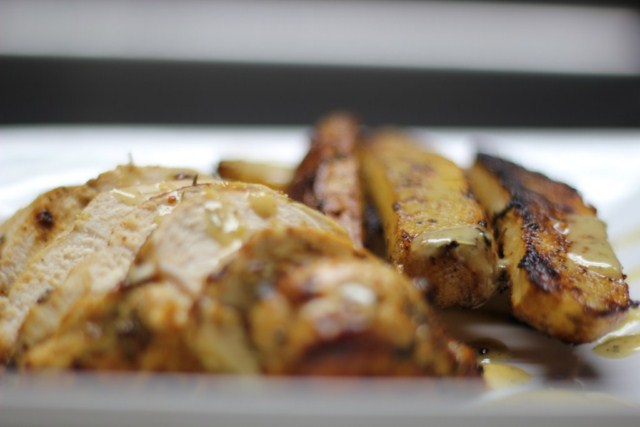 Here is another recipe converted to the grill from my friends over at Rouxbe.com. Simple, quick and packing tons of flavor, this recipe will certainly be on your "Must grill" list again and again. I love taking recipes made for the kitchen and recreating them outdoors on the grill or even in a Dutch oven, this recipe was perfect for the Island Grillstone.
The ingredients listed are enough to make both recipes, just divide in half when it is time to marinade them both.
Here is a quick video clip of the Grilled Greek Chicken recipe being prepared at Rouxbe.com: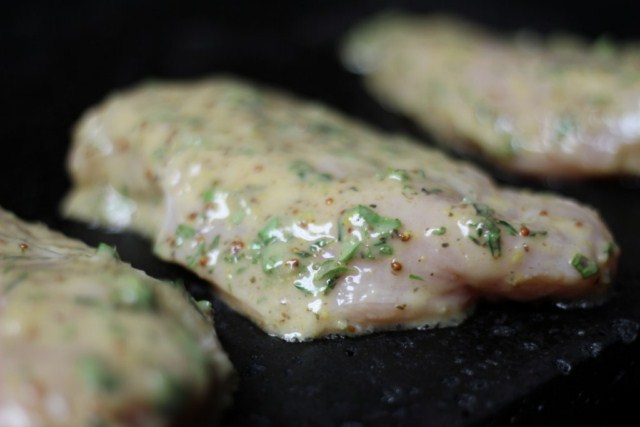 The marinade is perfect from the grill, it caramelizes up quickly from the sugar content so grill over a two zone fire or use and Island Grillstone to control flare-ups and burning. A two-zone fire will allow you to move the chicken/potatoes off of the heat and over to a cool zone if it flares up or has caramelized enough.
To prepare the marinade, first purée the garlic in a food processor. Add the grainy mustard, honey, Dijon, Greek seasoning, lemon pepper, salt and pepper. Pulse a few times to blend. Then add the lemon zest and fresh lemon juice. Keep the food processor running while you slowly add the oil. Do not over mix. The consistency should be thick but still pourable.
8 garlic cloves
1/2 cup grainy mustard
6 tbsp honey
1/2 cup Dijon mustard
1 tbsp Greek seasoning
1 tbsp lemon pepper
1/2 tsp kosher salt
1/2 tsp freshly ground black pepper
3 tbsp lemon zest
1/2 cup lemon juice (4 lemons)
2 1/2 cups vegetable oil
2 tbsp fresh oregano
2 tbsp fresh thyme
Finely chop the oregano and thyme and add them ½ to the Chicken and ½ to the Potatoes, along with the dressing.
Marinade the chicken for few hours in the refrigerator, no need to marinade the potatoes, just coat and grill.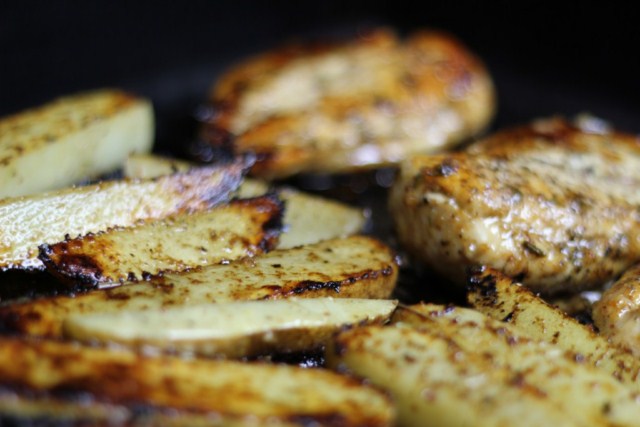 The Lemon Potatoes should go on the grill a few minutes before the chicken, they need more time to cook. Turn then to caramelize all sides.
Grill at 400°F till the potatoes are soft and the chicken reaches an internal temperature of 165°F
Here is a video clip of the Lemon Potatoes being prepared on Rouxbe.com:
Thank you to Rouxbe.com (My favorite online cooking school) for this awesome recipe!
Note: Cooking-Outdoors.com is an affiliate of Rouxbe.com cooking school.