Grilled Butterflied Tri-Tip Fajitas on the Island Grillstone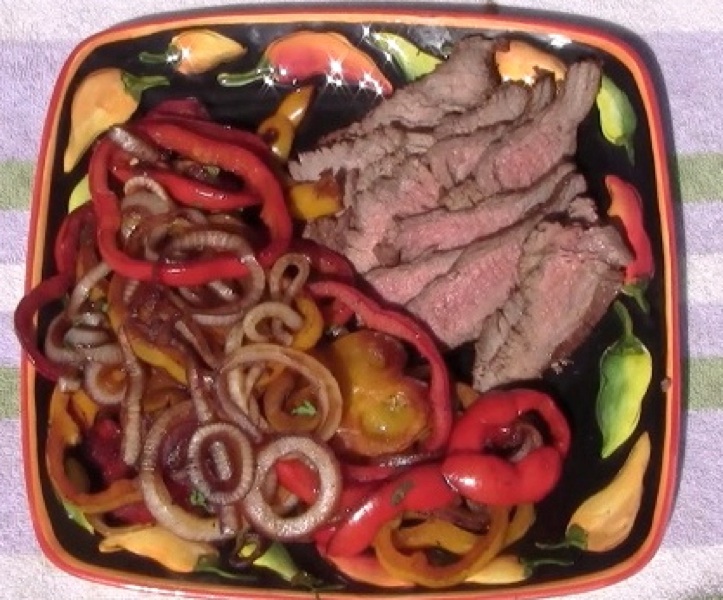 Most of us think of Fajitas as sizzling platters cooked on a flat top griddle that comes to our table creating great excitement and flare. All of those sizzles, pops and aromas placed before you is certainly enthusiastically received. Mounds of meat, chicken or shrimp smoking with promises of delight. Aromas of sizzling onions and peppers freshly sauteed, accompanied by favorite side dishes washed down with a margarita or beer, maybe a couple of chasers, well… you get the idea.
Perhaps a challenge to most grillers to pull something like this off the grill but with the right grilling techniques, some preparation, timing and the Island Grillstone, you can easily accomplish this classic grilling recipe!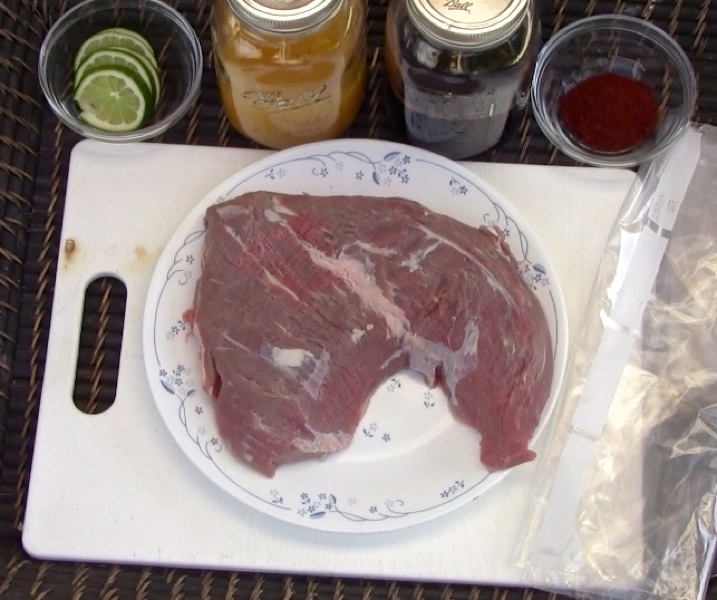 You will need a few ingredients to get started:
Trimmed Tri-Tip
1 sliced lemon
2 cup pineapple/orange juice
1 cup soy sauce
1 tbs chili powder
2 gal re-closable plastic bag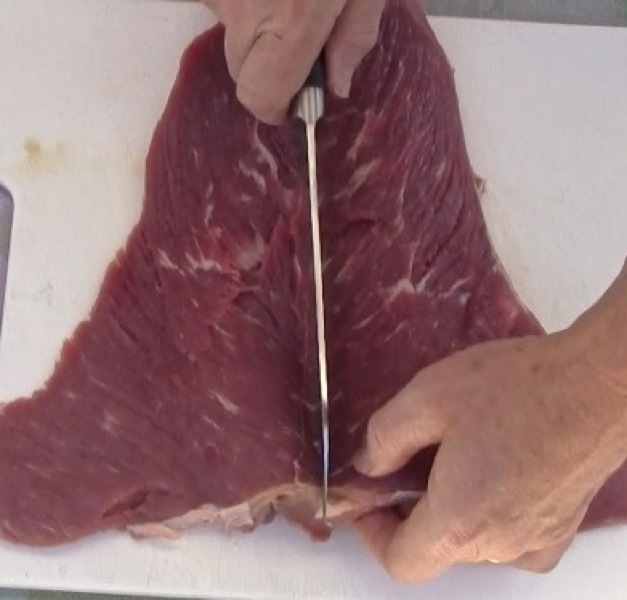 Tri-Tip is most commonly grilled whole, personally I have never seen a "griller" butterfly a Tri-Tip before. In fact I was once told by a BBQ friend when we discussing Tri-Tip, that grilling the Tri-Tip whole is the only way you can cook it. I brought up the butterfly technique and he stated "Just because you can, doesn't mean you should". Thankfully, the Tex-Mex crowd wasn't listening and that is why we are butterflying our Tri-Tip today.
Another popular option would be to double butterfly your Tri-Tip, making it a much thinner cut for even faster cooking, this option is up to you to pursue.
Butterflying Tri-Tip offers more surface area for the marinade to penetrate into the Tri-Tip, adding increased flavor and faster cooking times.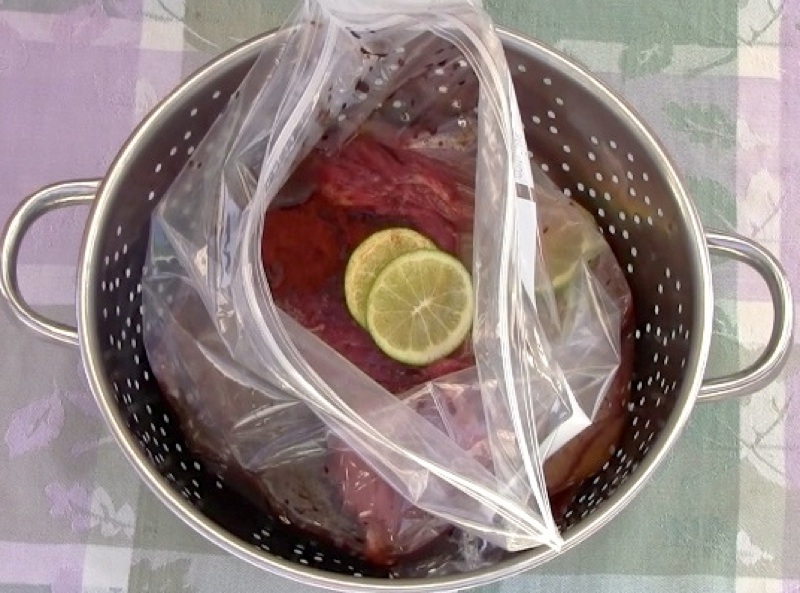 The Tex-Mex Fajita marinade is the easiest part of this grilling recipe. Just add your Pineapple/Orange Juice, Soy sauce, Chilli powder and lime slices with the Tri-Tip in the bag, squeeze to get the air out, seal and refrigerate for and hour or two.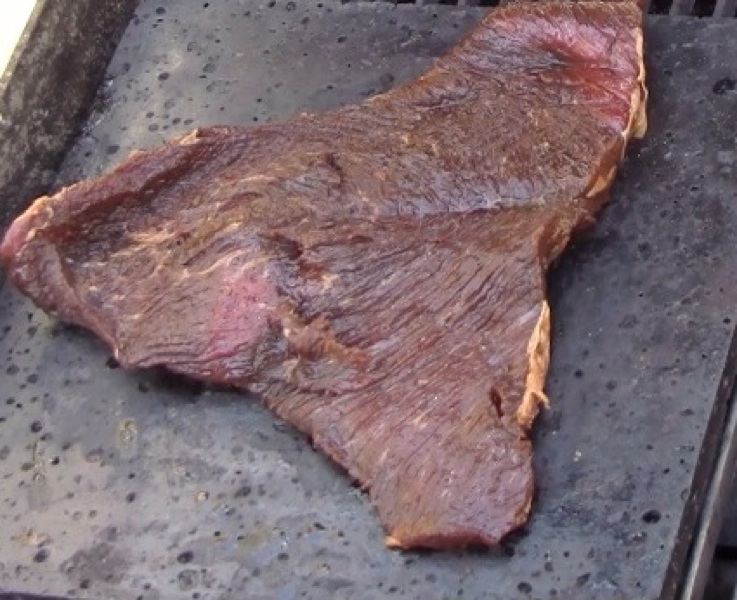 We are using the Island Grillstone for this recipe. Its large cooking surface is perfect for grilling our Marinated Tri-Tip Fajita recipe.
Pre-heat The Island Grillstone for 15 – 25 minutes at 375 F while you prep your vegetables.
Fajita Fixings:
1 Yellow Bell Pepper
1 Red Bell Pepper
1 Yellow onion
Optional:
Garlic
Jalapeno
Green onion
Slice your vegetable into 1/2″ think rings, stems and seeds removed.
once your Island Grillstone has pre-heated and is hot, place your butterflied Tri-Tip on the Grillstone and start grilling. Your cooking time will vary depending on the thickness of the Tri-Tip and the internal temperature you desire.
Cook for about 8 minutes on one side them flip to finish.
Note: Marinating the Tri-Tip will not result in a "Bark" or crusty coating on your Tri-Tip. In fact the soy sauce in the marinade darkens the meat while it is marinating so it may not even have those traditional grill indicators you normally produce while grilling on the Island Grillstone.
It is a fast grill so be ready!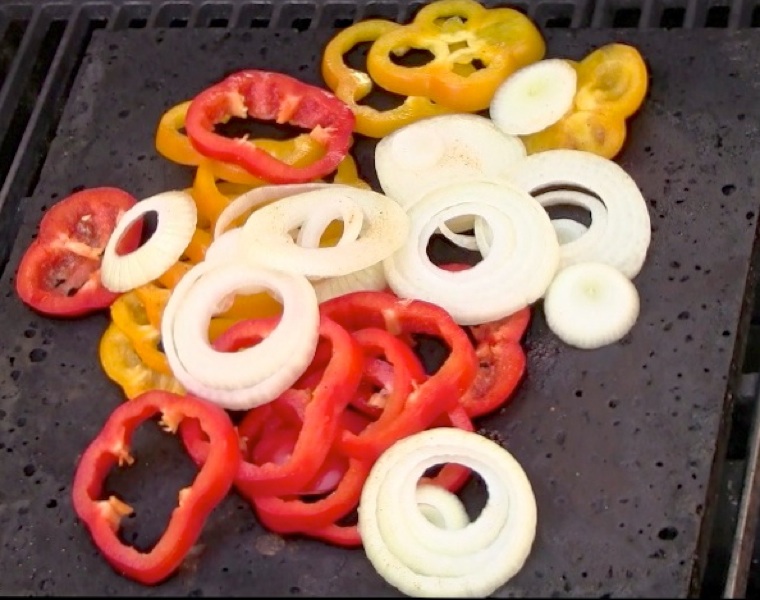 When your Tri-Tip Fajita is finished grilling, remove it to rest for 5 to 10 minutes.
Now is the time to throw on your Fajita fixings, saute on the Island Grillstone until done, turning as needed. Add some seasoning salt if desired or your favorite Tex-Mex blend to kick up the heat.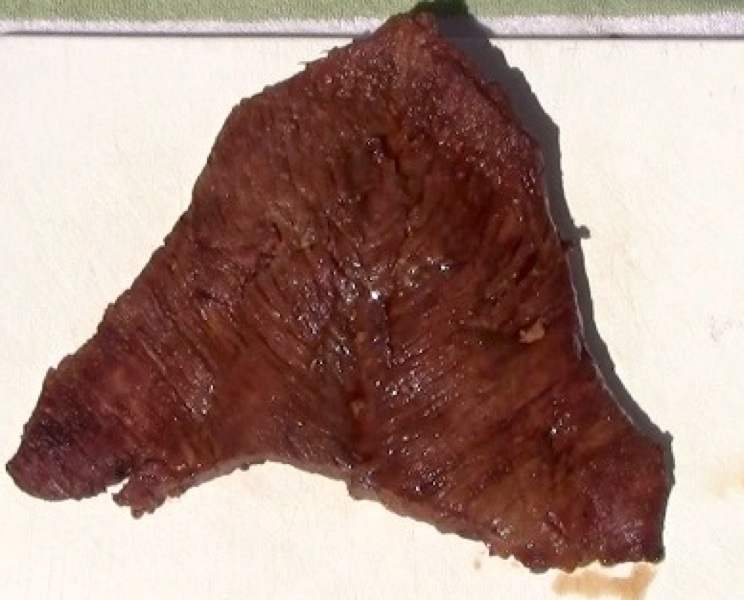 When done, your Butterflied Tri-Tip should look like this!
Note the grain pattern of the Tri-Tip, you will use this to cut your Fajita strips – across the grain 1/4 inch thick.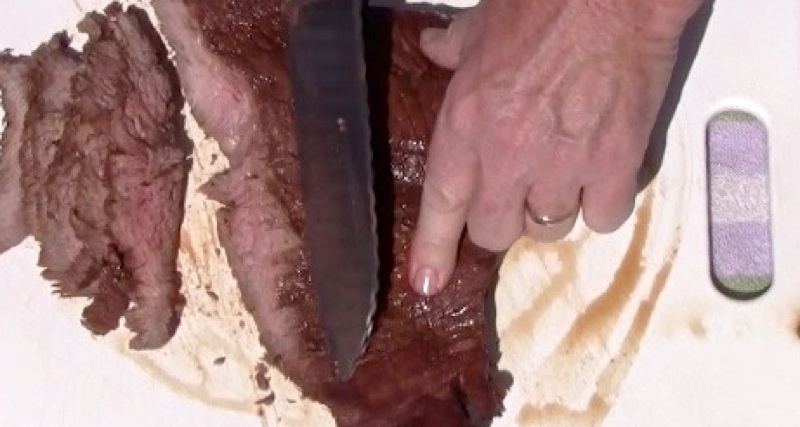 I like to warm up my tortillas on the Island Grillstone when everything is finished cooking. Serve up with some Mexican red rice and re-fried beans – all made on the grill, of course!