Grilled Italian Meatball Sandwich with Pesto Sauce Recipe
Here is my take on the classic Italian Meatball Sandwich, grilled on the Island Grillstone, smothered with fresh pesto sauce and piled into a delicious mutli-seed bun.
I'll show you how to grill those meatballs perfectly without losing a single one into the fire!
Cooking on a lava rock doesn't get any better than this!
For more information on the Island Grillstone visit http://www.islandgrillstone.com

Grilled Italian Meatball Sandwich with Pesto Sauce Recipe
Prep time:
Cook time:
Total time: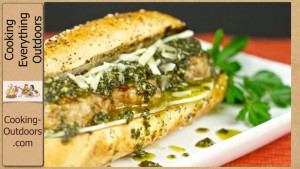 Here is my take on the classic Italian Meatball Sandwich, grilled on the Island Grillstone, smothered with fresh pesto sauce and piled into a delicious mutli-seed bun.
Ingredients
1 pound ground pork
1 pound ground turkey
½ cup (8 tablespoons) ricotta cheese
½ cup (8 tablespoons) parmesan cheese, freshly grated
½ cup (8 tablespoons) panko breadcrumbs
2 tablespoons flat leaf parsley
2 cloves (10 grams) garlic, minced
1 teaspoon dried oregano
1 teaspoon, red pepper flakes, crushed
6 slices provolone cheese
2 sandwich rolls
Salt and Pepper, to taste
Fresh Pesto Sauce
Instructions
Preheat the grill for about 30 minutes.
Take ground meat in a bowl.
Drop in half of the Parmesan cheese, ricotta cheese, salt, pepper, fresh flat leaf parsley, dried oregano, red pepper flakes, minced garlic, panko crumbs and eggs.
Mix everything well.
Shape the meat into balls and flatten them a bit.
Drizzle some oil on the Island Grillstone and place the meatballs on the stone.
Grill it up.
Flip after 5 minutes.
Cook until the meat reaches 165 F.
Toast the buns on the island grill stone.
Layer the buns with the provolone cheese slice.
Arrange the meat balls on top.
Drizzle pesto on top and sprinkle Parmesan over the meatball.
Slice and serve.
Video Transcript:
Presenter:  Hey, everyone.
Today we're making Italian meatball sandwiches on the Island Grillstone the Cooking Outdoors way.
Announcer:  The Cooking Everything Outdoors show is sponsored by Camp Chef and www.OutdoorCooking.com and www.IslandGrillstone.com.
Presenter:  So you know what I hate about meatball sandwiches, and you know it's a pet peeve and we all have our pet peeves about something, is that when you go and get one it is so slathered in sauce that you can't taste the meatballs.
That's typically because they're using the wrong meat and they overcooked it and such.
So I've put a little bit of thought into this recipe and I've changed things up.
As you know don't do a lot of meat around here, mostly because the wife and the kids are not big meat eaters and it's really ridiculously expensive.
So we're changing this meatball sandwich up and I'm going to be using turkey and pork which is going to give us a lot of moisture, some good flavor, especially with all the goodies I'm adding to it.
Now, with any recipe that I cook outdoors I want to make sure that I'm preheating equipment I'm using.
In this case I'm using my Weber E-310 and my Island Grillstone.
And we're going to preheat this for a good 30 minutes.
It's really cold out here.
There's a lot of moisture in the air.
I want this nice and hot.
Now, you can cook it directly on a grill, make sure you're doing it over indirect heat or if you do it over direct heat be prepared for a lot of flare up because these meatballs tend to be a little juicy.
I put a drip pan underneath, put a little bit of water in there to catch the drips so you don't get that burned aroma that you probably won't like.
This recipe bakes up really well.
So if you have a camp oven or a smoker that you want to go and use, you can do that too.
But let's get this mixed up and I'll show you how I'm going to grill it.
As I said, I'm using pork and turkey, both ground obviously, of 1 pound of each.
And the complete ingredients list will be in the Show Notes below and also on the website.
So this tends to get a little messy, but that's okay.
I've got a lot of ingredients in here.
You can adjust all of these to your own particular preference.
If you don't like it to be real cheesy, back off on the cheese.
If you don't want it to be hot, back up on the peppers, etcetera, etcetera.
So let's just get started.
I have about a 1/2 a cup of parmesan cheese.
This is a good stuff.
Use the good stuff.
I'm only going to use about 1/2 of this in my recipe because I'm going to save some of it for my sandwich.
Some ricotta cheese.
Salt and pepper.
Fresh flat leaf parsley.
The flat leaf has more flavor than the curly stuff.
If you don't believe me, give it a try.
And some dried oregano.
Red pepper flakes.
Fresh minced garlic.
I'm using Panko breadcrumbs.
You can just use regular breadcrumbs if you want.
And then eggs, I'm using 3 medium-size eggs.
You may need more.
This is just a binder.
You may also need more breadcrumbs, depending on how moisture mixture gets.
Let's mix this up thoroughly.
Did I mention I have two pet peeves about meatball sandwiches?
Okay, one of them is not really a peeve, but cooking meatballs is an inefficient process.
Okay?
I'll use it that way.
The best way to cook meatballs is to bake them and that surrounds the meatball with heat so that it's evenly cooked and it builds up a nice crust and that works out great.
When you're grilling it's a little bit more challenging because if you put it on the grill grates it tends to sink into the grill grates, perhaps they'll roll if your grill's not level and such and you'll get a lot of flare-ups.
Now, with the Island Grillstone I have eliminated the flare-ups but I still might get a little bit of a roll and I might get some uneven cooking.
I don't like a meatball that's really done on the outside and still a little bit raw on the inside.
I'd like it even and consistent.
So what's the solution to that?
Well, once you determine how big meatball that you want, and this is going to be sandwich size, you're going to try to form a nice roll, round ball, guarantee you won't stay that way, and then you're going to put this on the grill.
Well, you cook it, you get it cooked just right and then you put in your sandwich bun because I like to use kind of a Subway bun, if you will, to steal a name there and you pick it up to go to eat it.
And one of those suckers is almost always going to fall out because they're going to roll out.
So with that in mind I am going to give mine a little bit of a mini hamburger style look to it.
That way I'm going to get an even consistent cook.
They're not going to roll anywhere.
They're going to fit in my sandwich bun perfectly.
They're going to be easy to sauce up.
And they're not going to fall out when I go to eat the darn thing.
And that may be is how we roll.
So my grill's been preheating for about 30 minutes.
We're around 375 on the Grillstone here.
You may need to add a little bit of oil to yours to cook with.
I'm just going to put a little bit and if your Grillstone's been really pre-seasoned quite well you won't need that much.
So let's get these bad boys on the grill.
That's the sizzle I want to hear.
Don't get me wrong.
If you want a round meatball, make a round meatball.
You know me, I just like to mix things up a bit.
Okay, let's close it up.
We're going to grill this for several minutes and give them a flip.
5 minutes into this.
Smells amazing.
Let's give them a flip.
That's what I'm talking about.
That's what you get with the Island Grillstone.
Now we need to cook this to 165.
Remember I get turkey in it.
If you do in meat, you can do it to 145.
If you want, you can cook at all the way through.
It's your call.
But with turkey or chicken we can't take any chances.
We're done.
Temped to 165.
They look incredible.
They smell incredible.
I want to get them off.
Now I want to toast up semi bun real quick.
I'm going to do it on my Island Grillstone, right in all of that grease and juice.
It's only going to take a couple of minutes.
Buns are toasted.
Now, real quickly I want to get some provolone cheese on these bad boys.
And probably 3 slices will do.
I want to get my meatballs on here.
Take about 3 of these bad boys.
Okay, so I got some pesto I've made.
This is the good stuff, homemade.
Get a little last-minute stir there.
And I want to drizzle that over my semi.
And as I said a little bit of parmesan, holding that to the end there.
And that, my friends, is Cooking Outdoors Italian meatball sandwich or an Italian flat ball meatball sandwich, however you want to word it, but there it is.
All right, I'm dying to try this.
I mean, you just have no idea how wonderful this smells.
Oh!
Oh, holy shit that's good.
Now, I'm not saying that just because I just made this up, this is really good.
Those Italian flat ball meatballs are absolutely juicy.
That pesto just powers through.
It's really wonderful.
This bun is amazing.
So having said all that, man, I hope you enjoy this.
Please subscribe to my show.
Go check out my website and all the other stuff that I'm on.
Who knows what I'll come up with next time and until then I'll see you when I see you.