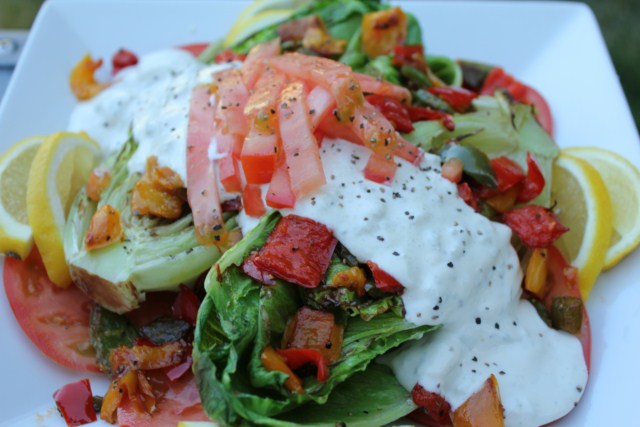 Fresh homemade Blue Cheese salad dressing from as little as 8 ingredients to top off a grilled Romaine salad, smokey, robust and refreshing on a hot summer afternoon.
One of my first memories of Blue Cheese dressing was on a family vacation so many years ago it is almost a blur. I do remember having a bite of my fathers steak (so good!) and my salad which was smothered in freshly made, creamy blue cheese salad dressing. The salad itself was unremarkable as I remember, just Iceberg lettuce with perhaps a tomato and the delightful fresh cracked black pepper the waiter applied on the top.
What has haunted me all these years since, is the limited re-occurrences of that amazing dressing. It's not that I haven't enjoyed many great salad dressings over the years, it's just that I have had way to many inferior bottled versions from the grocery store as substitutes. Very few ever delivered the euphoria of my first blue cheese dressing.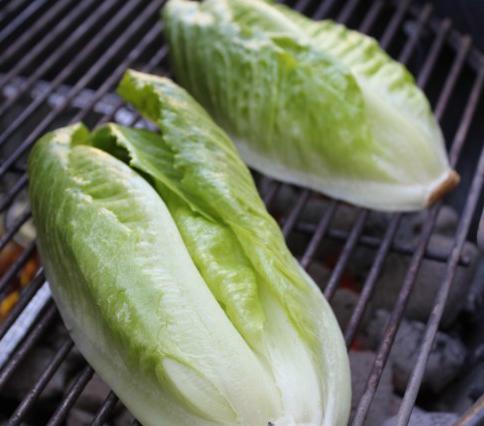 Promoting this whole episode was the Romaine lettuce I had just purchased the day before, the "What the heck were we going to eat for dinner tonight," combination of frustration and desire. It was hot, close to 100 degrees and I was not going to spend the afternoon grilling – nope, no way! So I decide a little grilled romaine and some sautéed bell peppers would do the  nicely for dinner, quick and easy with a few slices of garlic toast to accompany the salad. Checking what else we could have with the salad, I discovered a couple of tomatoes, perfect! Then with a quick glance to the salad dressings… None!
Now I was in trouble! A vinaigrette would be an easy fix, not quite what I was craving for, so looking around a bit more I discovered some beautiful blue-veined, crumbly, smelly and perfect Blue Cheese I was saving for who knows what. "Can I make Blue Cheese dressing?" I mumble in my head.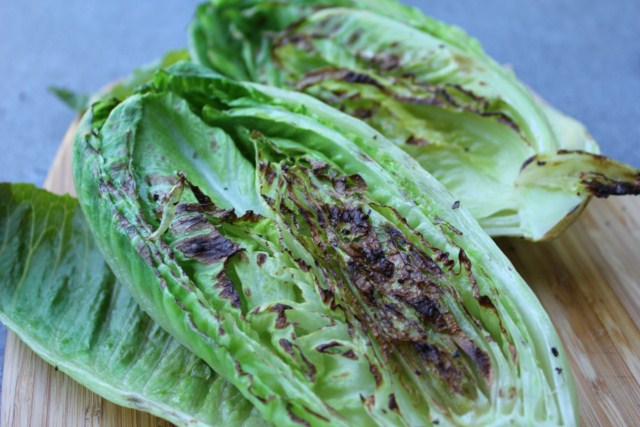 A quick look for Blue Cheese dressings recipes online revealed some great recipes, but they almost all universally required "Buttermilk", not something I keep on hand ever, or sour cream. Still not willing to go back to the store, I kept looking for a recipe that fit my kitchen stock (i.e. no buttermilk, no sour cream) and came across an easy recipe on About.com calling for just a few ingredients that I had in stock!
So why am I ranting so much about Blue Cheese dressing? After I doctored the recipe just a bit to make it fit my kitchen stock, we dinned on the best grilled Romaine salad I have eaten in a long time. Yes, It's probably because I made the blue cheese dressing myself for the first time but there is no reason not to pat myself on the back at least every other day, right?
It was really, really good and reminded me of that old blue cheese dressing I had savored for so long in my memory.
Here is my doctored recipe and I will say that two days later it tasted even better!
| | | |
| --- | --- | --- |
| Homemade Blue Cheese Dressing | | Print |
Recipe type:
Salad Dressing
Prep time:
Total time:
This recipe is from http://culinaryarts.about.com/od/saladdressings/r/bluecheese.htm I modified it slightly based on what I had at home.
Ingredients
1 cup mayonnaise
2 tbsp white wine vinegar
¾ tsp Worcestershire sauce
¼ lb blue cheese crumbled
½ tsp garlic powder
1 tsp fresh ground black pepper
¼ tsp kosher salt
¼ – ½ cup half & half
Instructions
Combine the mayonnaise, white wine vinegar, Worcestershire sauce, blue cheese, garlic powder, pepper and salt in a bowl.
Slowly stir in half & half to thin as desired.
Taste, if needed add additional salt and pepper.
Chill for 1 hour.
Related Reading: