Grilled Strawberry, Chocolate and Brie Sandwich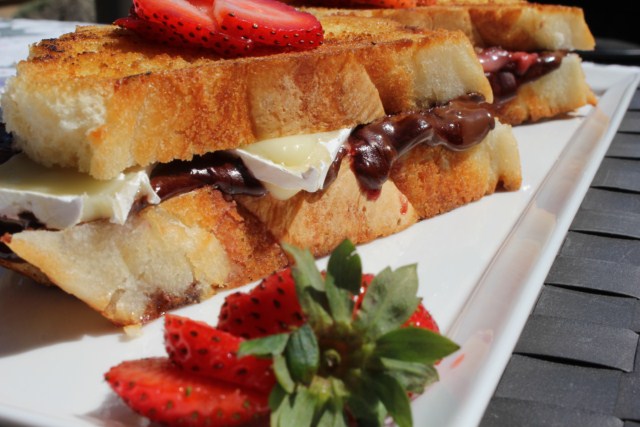 This simple recipe was the week #2 winner of the Island Grillstone contest over on Facebook. Just goes to show you that grilling on the Island Grillstone produces beautiful results. Bobbi Gallegos entered this grilled recipe idea, here is her entry:
Roasted Strawberries, Brie & Chocolate Grilled Cheese YUMZZ
makes 2 sandwiches
6 strawberries, quartered
2 tablespoons of olive oil
pinch of salt
2 tablespoons butter
4 thick-cut slices french bread
2-3 ounces of brie cheese, sliced
1-2 ounces high-quality dark chocolate
Grill set to medium Toss strawberries with oil and salt, then spread on a grillstone and roast for 12-15 minutes. Remove & set aside.
Butter the sides of two slices of bread, place them on the grill buttered-side down, then layer on a few slices of cheese, chocolate and strawberries. Top with a few more slices of cheese, then butter one side of the other bread slices, and place on top of the cheese. Cook for 2-3 minutes or until the cheese has started to melt, then gently flip the sandwich and cook until golden. Serve immediately! … Perfect recipe for an Island grillstone!! ♡♡ I would love one!!
Here is how I grilled it: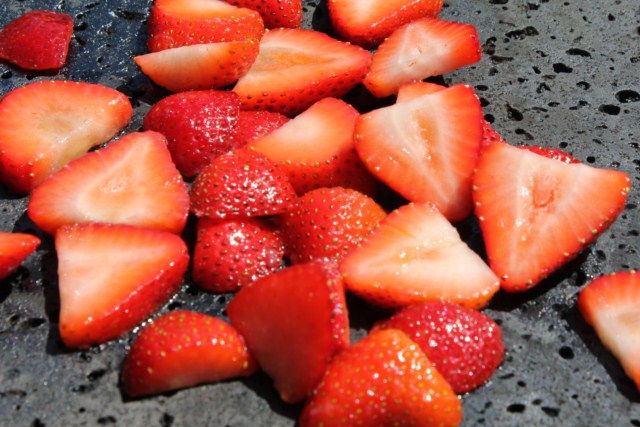 Pre-heat your Island Grillstone for 20 minutes. Here I am using the round grillstone with charcoal. Stay away from additional smoke as this is a very light flavored recipe. Grill temperature was at 375 degrees after warm-up.
I sliced the strawberries into fourths to get flat pieces instead of quarters. Drizzle with olive oil and salt or perhaps sugar if you really have a sweet tooth. Grill for about 5 minutes if you sliced your strawberries the way I did, longer if you slice them into quarters.
If I was to change anything in this recipe it would have been the step above. My taste buds would have preferred fresh uncooked strawberries on the sandwich. I think the strawberry flavor would have come through better.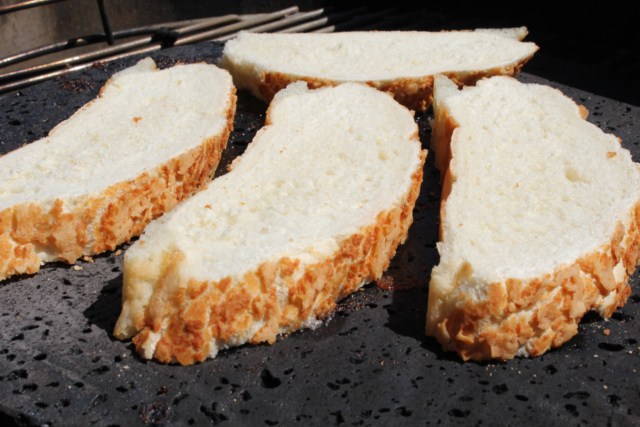 Cut some nice thick slices of french bread, I used Dutch Crust for the texture. Spread butter on one side and place on the Island Grillstone to grill. I waited for about 5 minutes before I started to add the remaining ingredients.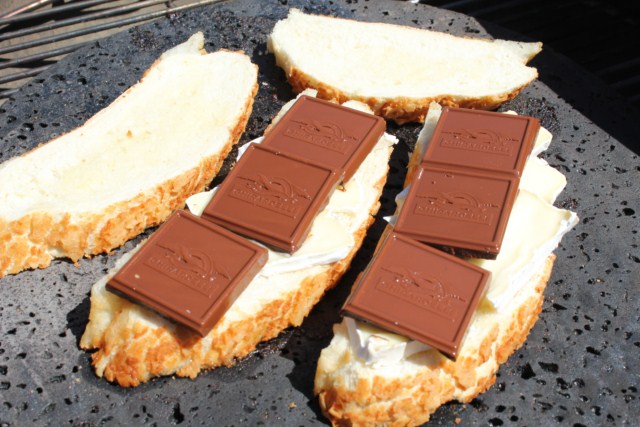 Add a layer of brie and chocolate to the uncooked side of the french bread. At this point I could hear the gardeners next door making comments about how good the BBQ from somewhere was smelling.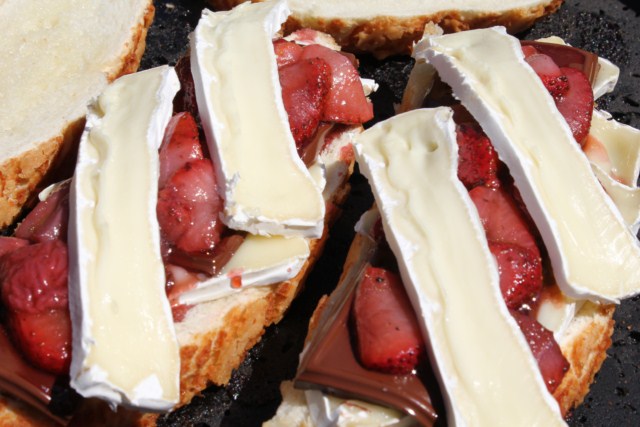 Add grilled strawberries and more slices of cheese to your grilled french bread sandwich.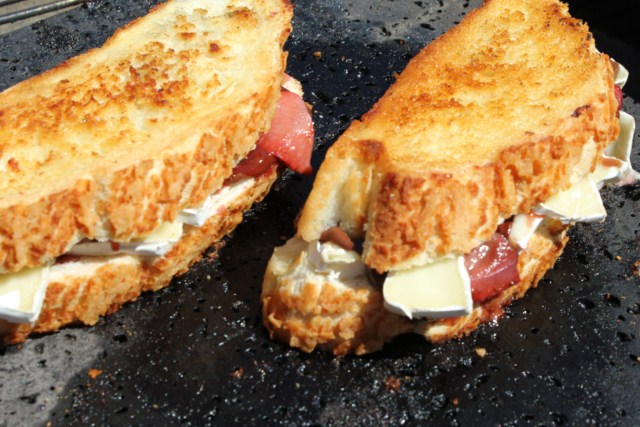 Add grilled french bread to complete sandwich. Notice the golden brown color of the grilled french bread? Everything will be melting at this point so there is no need to flip the sandwich. I pulled mine as soon as I placed the other piece of french bread on top.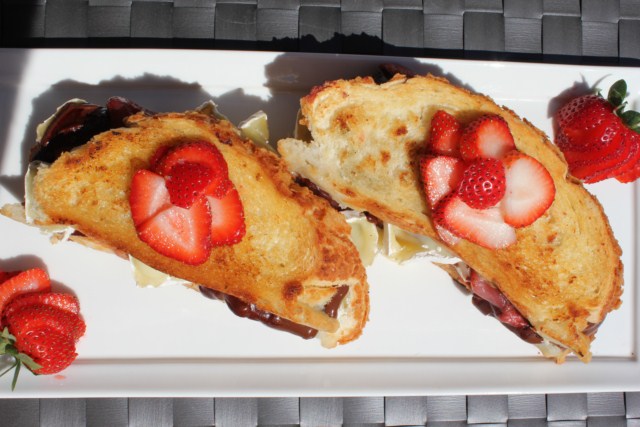 Beautifully grilled sandwich!
We are half way through the contest over at the Island Grillstone Facebook page. With two weeks to go you have a great chance to win your own Island Grillstone. All you need to do is submit a recipe or a recipe idea that can be cooked on the Island Grillstone and "like" their Facebook page to enter.
Great recipe Bobbi! Enjoy your new Grillstone!!