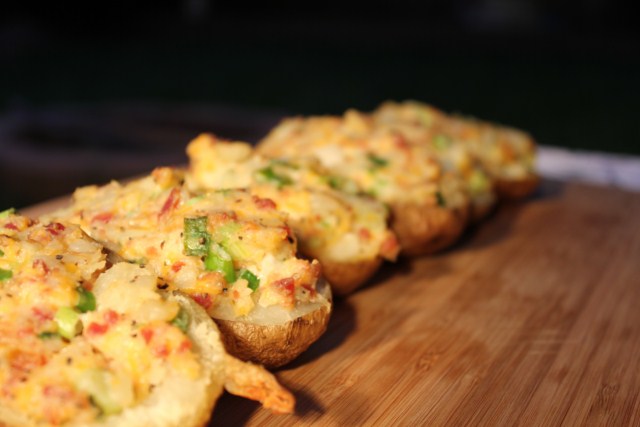 Whoever created the "Twice Baked Potato" recipe has my eternal appreciation and loyalty! A masterpiece of simplicity and flavor packed into a potato, brilliant! Perfect for the grill with those smoky aromas sending it over the top in my book. This is a recipe I use in my grilling classes, we usually run out of samples before I get to try any so I decided to add it to my BBQ Rib dinner, prepared on my Camp Chef Big Gas Grill awhile back. Only 9 ingredients required, about an hour of patience, an a willingness to fight for one at the dinner table is all you'll need to be a grill hero with this recipe.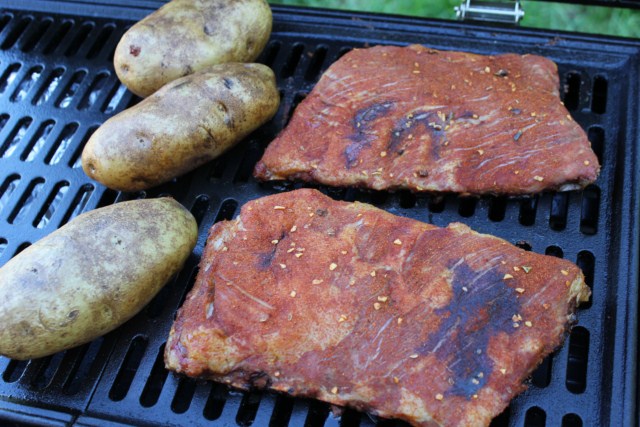 Start your cook with well scrubbed potatoes. The recipe is for 6 large Russet potatoes but I'm only cooking 3. This will give me 6 halves, perfect! Bake them for at least 1 hour till a fork can be inserted into the potato easily. 350 degrees F indirect heat.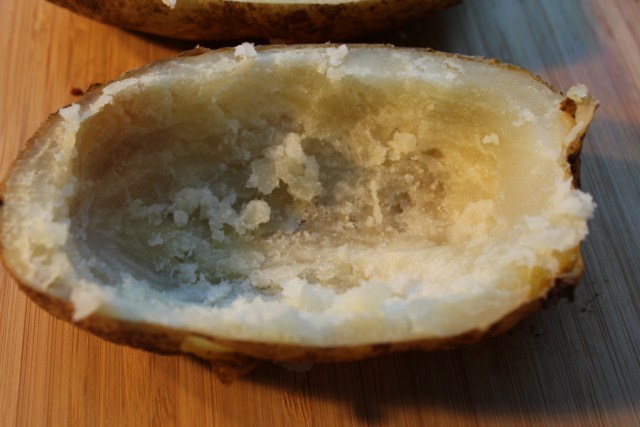 Once your potatoes are done, cut them in half and let them sit to cool, about twenty minutes. Scoop out the potato meat leaving at least a 1/4 inch of potato meat connected to the skin. Set aside the potato meat for the next step.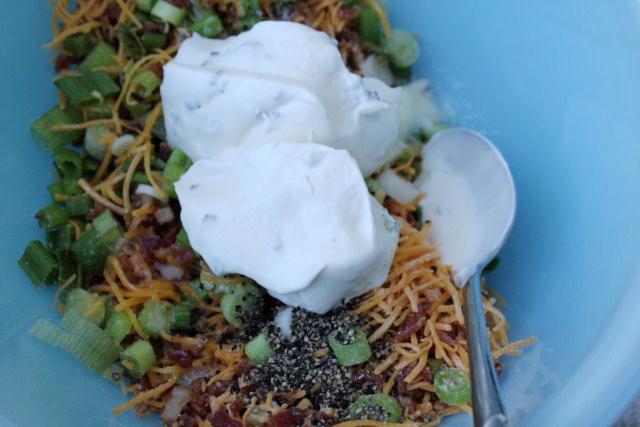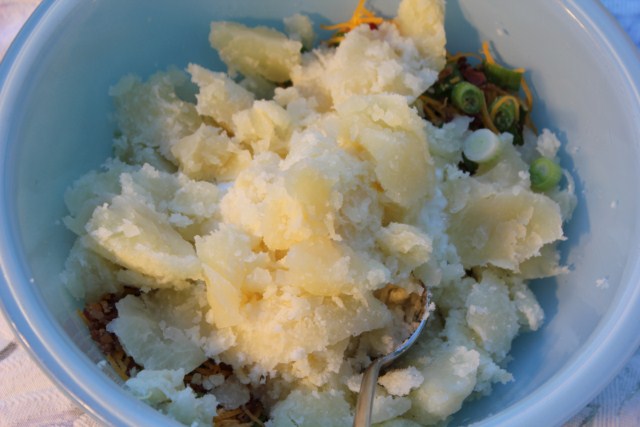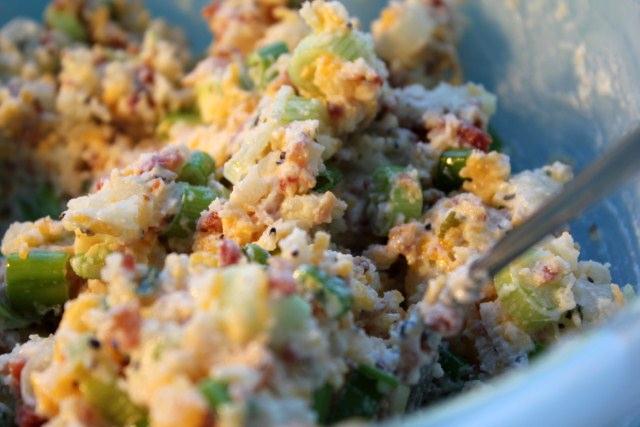 Place all of you recipe ingredients and potato meat into a large bowl, mix thoroughly.
At this point I find myself tasting a bit to much of the Twice Baked Potato Stuffing mixture, it's so good just like this!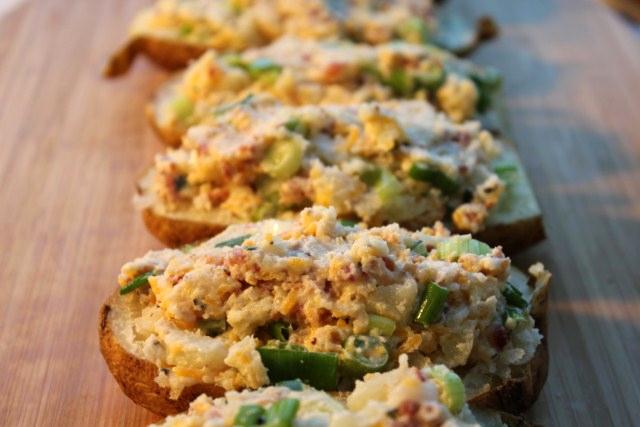 Now is the time to stuff your potatoes for the second bake. Pack them full and high!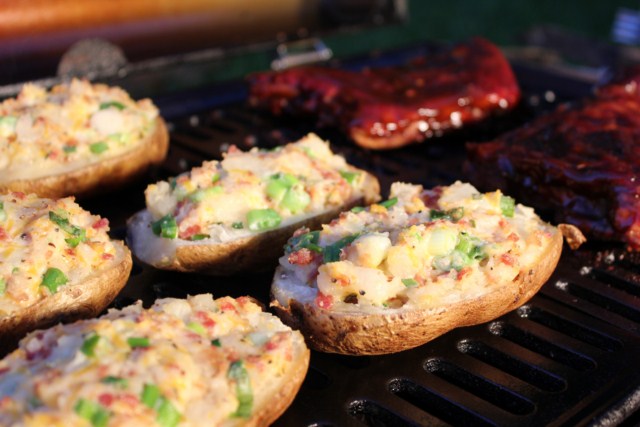 Back on the grill for the second bake. This should take about 20 – 30 minutes more. The secret here is to not over bake and dry out the potatoes. They will turn a beautiful amber color on the top!
Bet ya can't just eat one!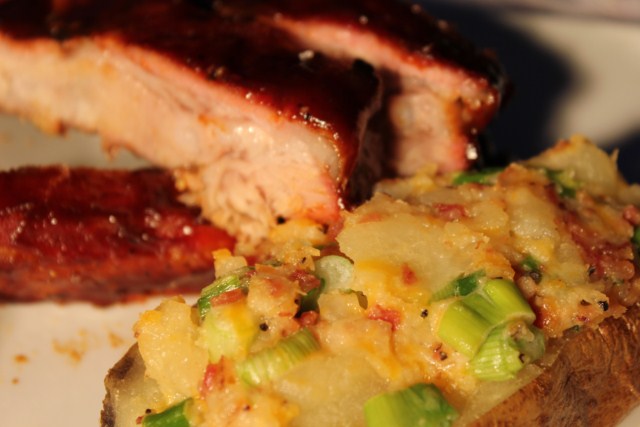 | | | |
| --- | --- | --- |
| Grilled Twice Baked Potato Recipe | | Print |
Recipe type:
Vegetable, Side Dish
Prep time:
Cook time:
Total time:
Perfect with your favorite BBQ entrée or as a stand alone meal!
Ingredients
6 large baking potatoes
½ cup real bacon bits
1 cup sour cream
½ cup milk
⅓ cup butter
½ teaspoon salt
½ teaspoon pepper
1 cup shredded Cheddar cheese
8 green onions, sliced
Instructions
Preheat grill to 350 degrees F
Place potatoes on grill and close lid.
Grill for 1 hour until a fork can easily slid into the potato.
Remove from heat and let cool just until you can touch them comfortably, about 20 minutes.
Cut them open lengthwise and remove the cooked potato flesh.
Leave a ¼ inch of potato meat connected to the potato skin.
In a mixing bowl, mix the potato flesh, sour cream, milk, butter, salt, pepper, cheese, bacon bits and chopped green onions.
(Optional) Reserve ¼ of bacon, cheese and onion to sprinkle over the top when finished
Replace stuffing mixture into the potato skins.
Grill with the lid closed for 15 – 30 minutes more.
Related Reading: