How to Grill Boneless Skinless Chicken Breast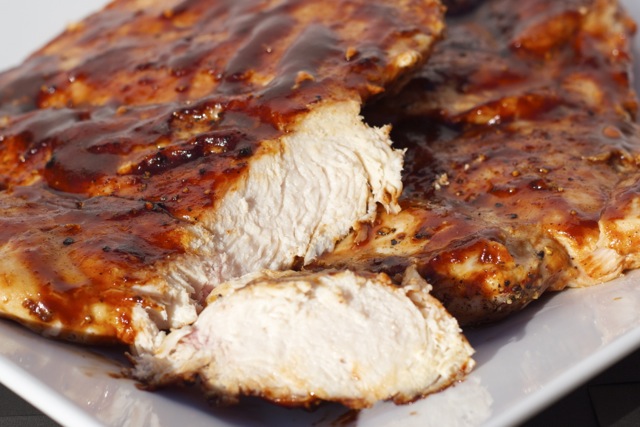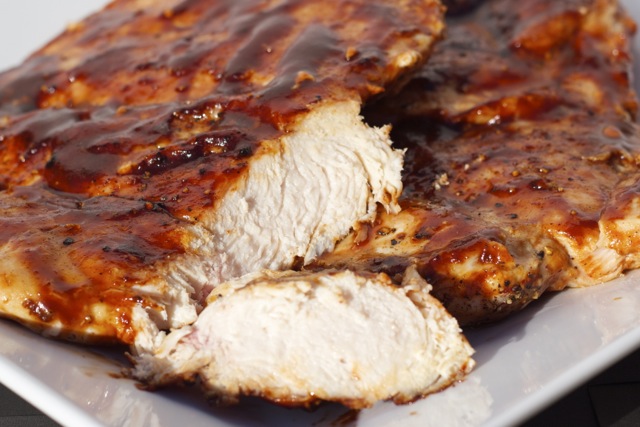 Skinless Boneless Chicken Breast is, to many cooks at the grill, a challenge. The chicken breast is thick on one end, thin on the other and void of any fat with the skin removed and flavor from the bones removed. Getting the thick side of the Boneless Skinless Chicken Breast grilled to 165° results in the thin side overcooked at 195° and as tough as a leather boot boiled to perfection.
Solution: Butterfly the Boneless Skinless Chicken Breast.
I have been doing this for years. Granted sometimes I forget and then bemoan the results, blame the dog and suffer through the tough parts hoping I have enough sauce to make it taste palatable and disguise it from the family. More beer does help…
Butterflying your chicken breast will reduce the grilling time by 50% making this a very fast grill and even faster when using a propane grill. I prefer the taste picked up from charcoal as the Skinless Boneless Chicken Breast needs all of the help it can get. Your choice!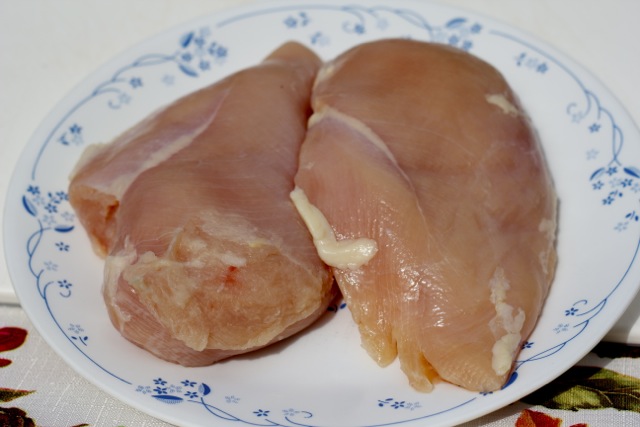 Sorry for the unappealing photo but this emphasizes the problem. No fat, no bones, tapered with various thickness.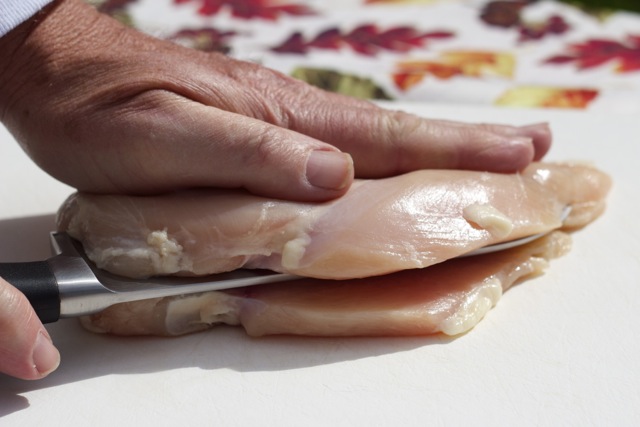 Take your chefs knife (which is very sharp – right?) and slice the chicken breast in the middle as pictured above until you reach the other side without cutting all of the way through. I try to stop at about 1/2 – 3/4″ so I can unfold it like a book.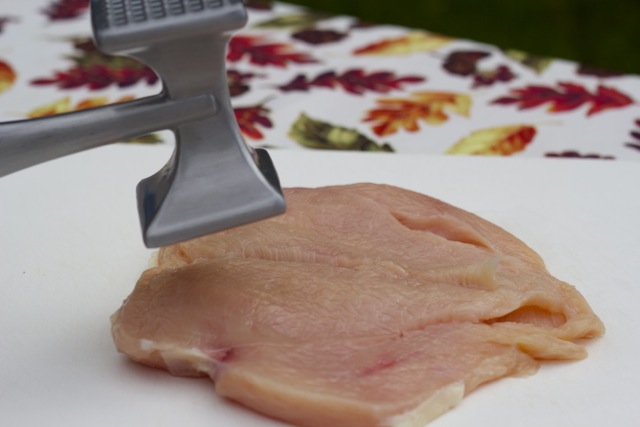 Once the chicken breast is open, you'll see it still has thicker uneven sections. We need to even the cooking surface out by taking a meat mallet, rolling pin or a bottle and gently pounding the surface till it is an even thickness all over. Now don't worry about it being perfect, just close is good enough. You may want to save yourself the trouble of extra clean-up by placing the chicken breast in a plastic resealable bag, place it between wax paper or even plastic wrap.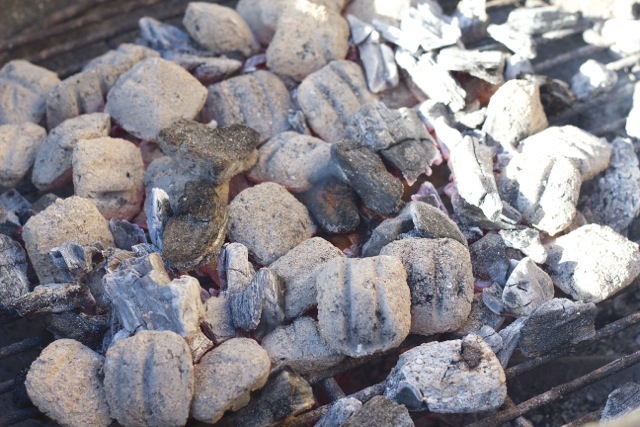 If your using a propane grill, then you can skip this part, but remember to pre-heat that grill before you start cooking! Number one failure of any griller is not pre-heating their grill.
To maximize our flavor when I grill Boneless Skinless Chicken Breast, I use lump charcoal. Lump charcoal reminds me of Fourth of July here in the U.S.A. it is fun, lots of fireworks and explosions that make your heart stop. Lump charcoal is very similar to the Fourth of July – lots of sparks, explosions, excitement and a mess of ash flying around. All good stuff that results in amazing flavor when you are grilling. It's the hot spots and the excitement that turns most people away from the best grilling results they will ever get.
Solution: 50/50 ratio of compressed charcoal briquettes and lump charcoal. Doing this results in great smokey flavor, even heat surface, less mess and limited fireworks.
Two ways to do this:
One is to start your compressed charcoal briquettes first. When they are ready, pour them into the bottom of your grill and then add the lump charcoal to the top of the compressed charcoal briquettes to ignite.
Two (is the way I do it) placing both the compressed charcoal briquettes and the lump charcoal into the charcoal chimney at the same time when I light it, then pour both into the bottom of the grill at the same time.
Now pre-heat your grill and grate – this is critical to successful grilling.
Seasoning is simply kosher salt and fresh ground pepper or use your favorite rub. Other options would be to marinade it for and hour or so before grilling. Teriyaki is the favorite around here.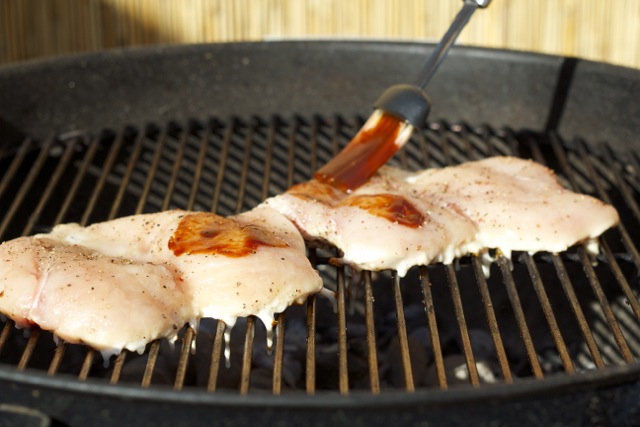 With a hot grate, your ready to grill! This is a quick process, only taking a couple of minutes per side.
Place your Butterflied Skinless Boneless Chicken Breast onto the grill grate and then lightly sauce up the top side. Typically BBQ sauce would burn if you start adding it too soon but when you flip the chicken breast you will only be cooking it for a couple more minutes, just enough time to add more BBQ sauce to the cooked side before it's ready to be pulled of the grill.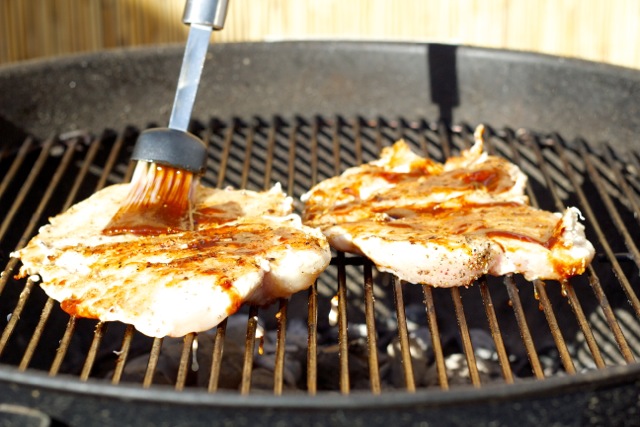 The results of grilling your Butterflied Boneless Skinless Chicken Breast this way is a fuax skin like texture on one side (slightly crisp meat surface), even cooking all around and a fast grill time. You will find your chicken breast is juicy and tender with a great presentation that you won't have to disguise with extra sauce.
Perhaps one of my favorite techniques for a grilled chicken recipe with a no fail grilling experience!
Let me know how this works for you in the comments below!