How to Grill Pineapples – grilling steps and tips

Last time we looked at selecting and preparing a pineapple for grilling in my "How to Grill Pineapples – purchasing and cutting" article. Now I will show you how I prepare and grill pineapple with a few tips thrown in for good measure. You will find that grilling pineapple is easy, abundantly delicious, and perfect for grilling as a side dish, desert or an accompaniment to amazing recipes for the grill. Rarely do I use canned pineapple on the grill, just too much water content to grill nicely. You will find that fresh pineapple is the grillers choice for all of the right reasons – fresh, juicy, tart, amazing color combination of deep dark crusty grill marks scored on a field of brilliant yellow-orange and bursting with sweetness that takes your sweet taste buds to another world.
Here we go how to grill pineapples!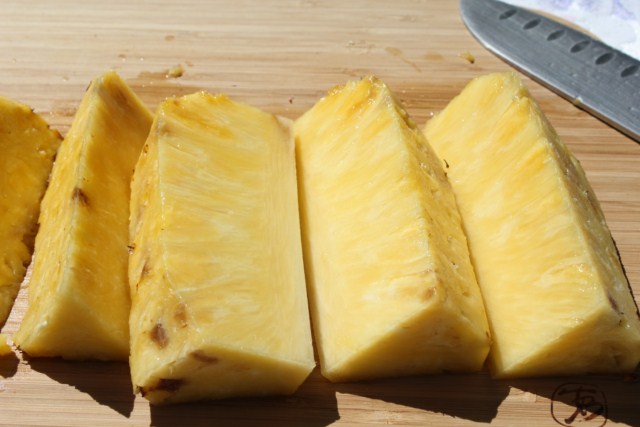 A wedge, rings, slices, half or completely whole, it is all good on the grill. I choose wedges for this time, a nice corn dog stick in the end of these would make for a fun snack also. This pineapple was heading to the dark side (see top left corner of first full pineapple wedge) starting to over ripen a bit. Some might wish to trim these parts off or leave them there as I did, very sweet still and oh so juicy!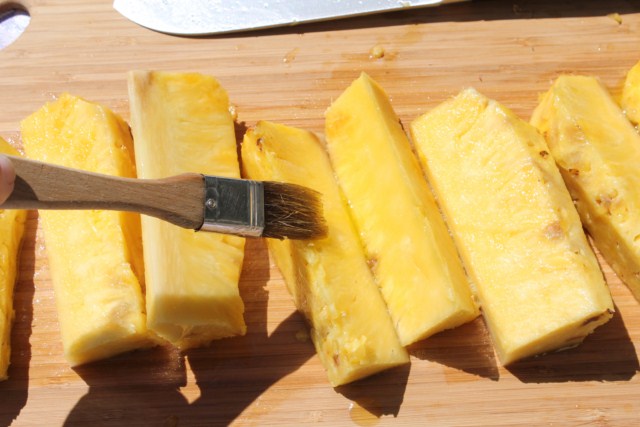 When grilling, do you oil the grate or the food?  OK, just received 101 answers from 100 grillers about that grilling question. I won't stir the pot to much but I have been known to do both depending on my strategy at the time – how's that for walking the middle road?
I am applying a light olive oil to my pineapple wedges before placing them on the grill. Oiling keeps the pineapples from sticking till the grill grates caramelize the pineapples to release from the grate and produce your grill marks (known as the Maillard reaction). Notice how dry the pineapple is? Moisture was removed with a paper towel first. This extra moisture prevents the pineapple from caramelizing as it steams on the grate, which is not what you want to accomplish.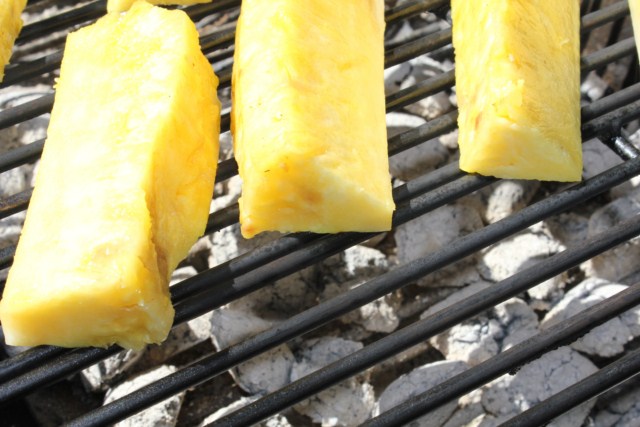 How to grill pineapple? I grill my pineapple over direct medium-high heat; this seems to work the best with larger cuts of pineapple. Using charcoal or gas is great for grilling your pineapple. Just a few minutes on each side to get those juices released in the pineapple and nice grill marks to form. Don't play around with the pineapple by checking and flipping, peak and flip when it's ready, patience pays off here.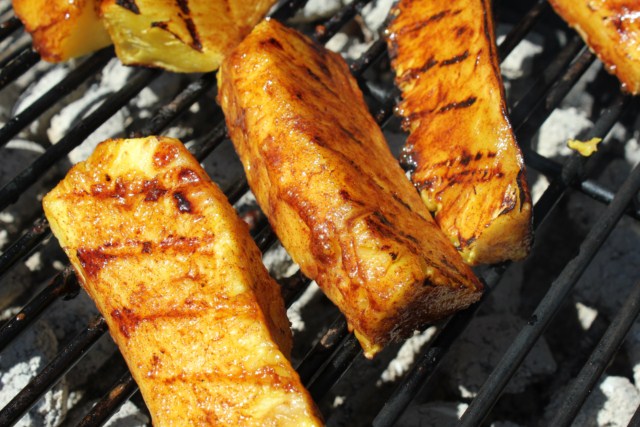 Once you have those beautiful grill marks on your pineapple, it's time to add your next flavor profile (if you choose to). I brushed on a simple brown sugar, cinnamon, honey and rum glaze to finish off the grilled pineapple. This will only take a minute or two longer, just enough time for the glaze to set. You could also just sprinkle some sugar on the pineapple or brush on some honey, or eat it as is, simple is good.
Now you know how to grill pineapples! One of the quickest crowd-pleasing grill treats I like to serve.