How to Make Homemade BBQ Sauce
How could it be possible to improve on the pride you feel of placing a perfectly grilled meal on your table?
Making your own BBQ sauce!
This would be on the top of my list, goes hand in hand with "I built this", a step closer to grilling perfection, a pinnacle of accomplishment. Why do I rate this so very high? Complacency, pure and simple, the marketing Mensa's  have corrupted our ability to deviate from the gabillions spent convincing you that the shiny, colorful bottle on the grocery store shelf is the best that can be had. Now, I am going to be among the first to tell you that those BBQ sauces are mighty darn good but very few of them fit my personal idea of perfect BBQ sauce, close to a traditional Kansas City style BBQ sauce. Yes, I am leaving out all of the other varieties of BBQ sauce that are available: Southern Carolina Mustard BBQ sauce, Chimichurri sauce, East Carolina BBQ sauce, Memphis BBQ sauce, Alabama White BBQ sauce and so on. It could take years to go through all of these (I am willing) and a small portion of your retirement fund to taste all of these, let alone make them.
Barbecue sauce (also abbreviated BBQ sauce) is a flavoring sauce used as a marinade, basting (cooking) or topping for meat cooked in the barbecue cooking style, including pork or beef ribs and chicken. It is a ubiquitous condiment and is used on many other foods as well.[1]

The ingredients vary widely even within individual countries, but most include some variation on vinegar and/or tomato paste as a base, as well as liquid smoke, spices such as mustard and black pepper, and sweeteners such as sugar or molasses. The most common barbecue sauce in the United States is a commercialized Kansas City-style which uses tomato puree, corn syrup, molasses and vinegar and has a long shelf life. This style is less intense but similar to steak sauce, which is itself a direct relative of the ubiquitous British brown sauce. Other regional recipes elsewhere forgo the tomato sauce base in favor of a more penetrating vinegar-dominant marinade. http://en.wikipedia.org/wiki/Barbecue_sauce
I would like to share my personal Homemade BBQ sauce, closely resembling a Kansas City BBQ sauce, which is probably, though not arguably, the favorite everyday sauce out there.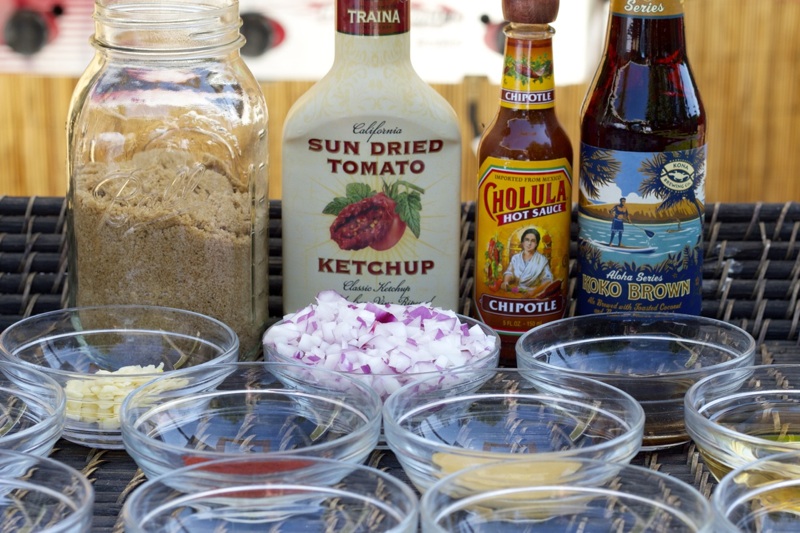 Ingredient wise my homemade BBQ sauce recipe has 14 ingredients that add a unique flavor to the BBQ sauce recipe including: California Sun Dried Tomato Ketchup, Cholula Chipoltle Hot Sauce and Kona Brewing Company Koko Brown Ale. (Both the California Sun Dried Tomato Ketchup and the Cholula Chili Lime Hot Sauce were provided to me as samples.) I also use brown sugar, red onion, garlic, apple cider vinegar, Worcestershire sauce, honey mustard, paprika, sea salt, black pepper, celery seed and chili powder.
Just a quick note about the Traina Sun Dried Tomato Ketchup: This is one of the richest tomato ketchup's I have ever tried, bold tomato taste, beautiful dark rich color. I highly recommend it!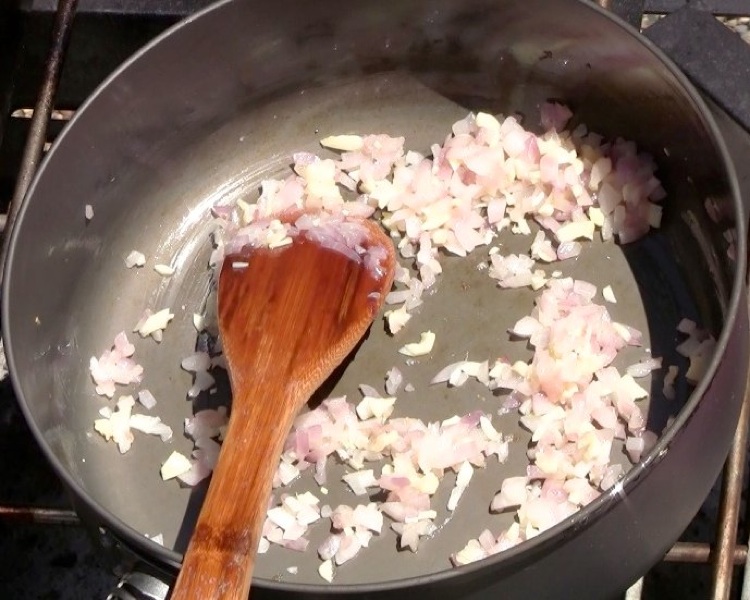 One decision you need to make ahead of time is how large do you want the onion pieces to be. I like to see mine in the sauce, so I just do a small dice and saute these down a bit. If you want a silky smooth BBQ sauce then mince the living daylights out of your onion and garlic before you saute away.
Equipment wise I am using the Camp Chef Big Gas Grill as my heat source and my Man Pans to cook the BBQ sauce in.
Using a med low heat I preheated my pan just for a couple of minutes, added some olive oil and sauteed my onions until they were translucent, then added my garlic.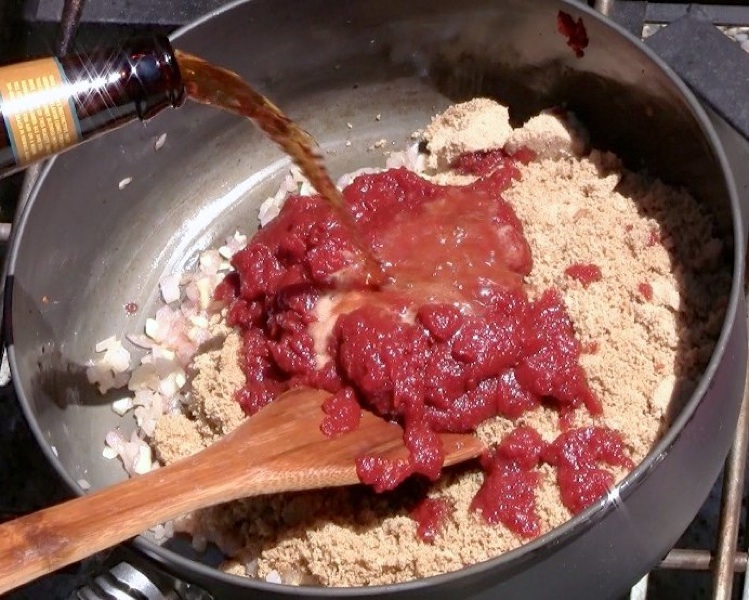 Once my onions and garlic was ready I added the brown sugar, Sun Dried Tomato Ketchup and Koko Brown beer. Mix thoroughly and let simmer for several minutes.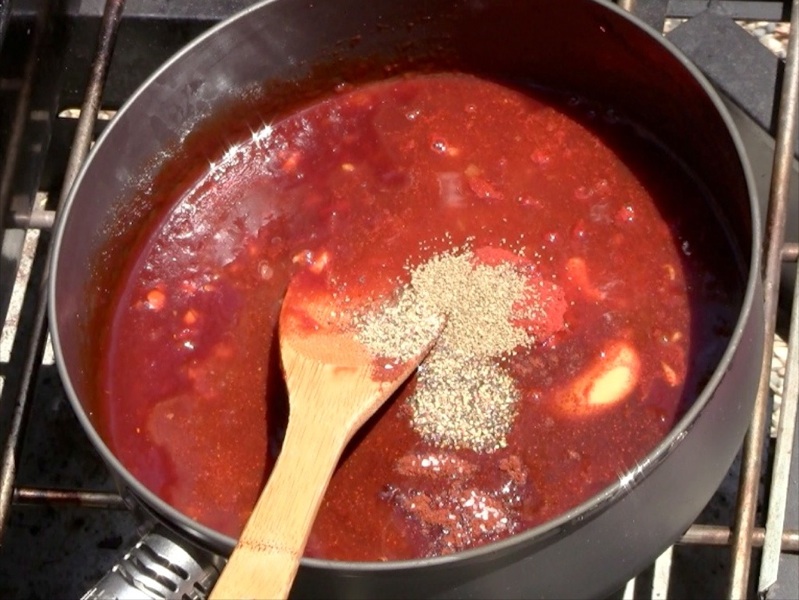 Add the remaining ingredients, stirring completely and simmer for 30 minutes on low heat to thicken up.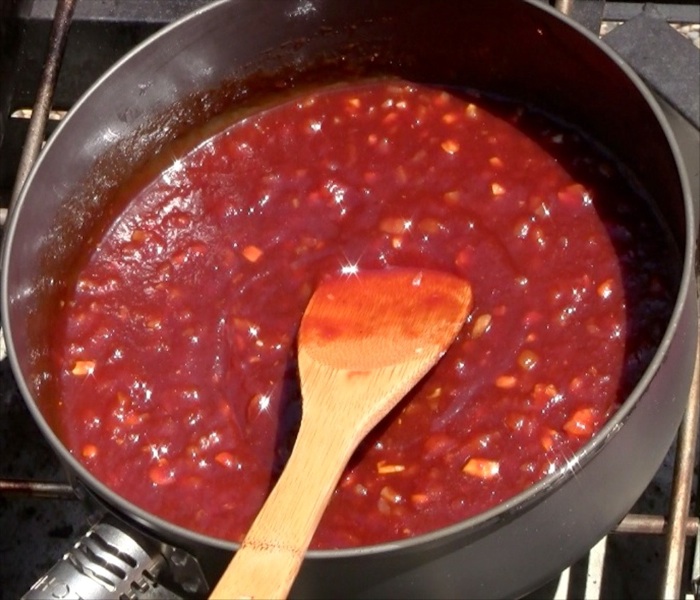 Continue to reduce until your BBQ sauce reaches the consistency your prefer.
I was looking for a gravy texture in mine.
That is it! You just made you very own BBQ sauce!
Slap a label on it and pass it out to your friends and family – you will be a hero!
Perfect for Ribs, Chicken, Steak and Hamburgers!
Homemade BBQ Sauce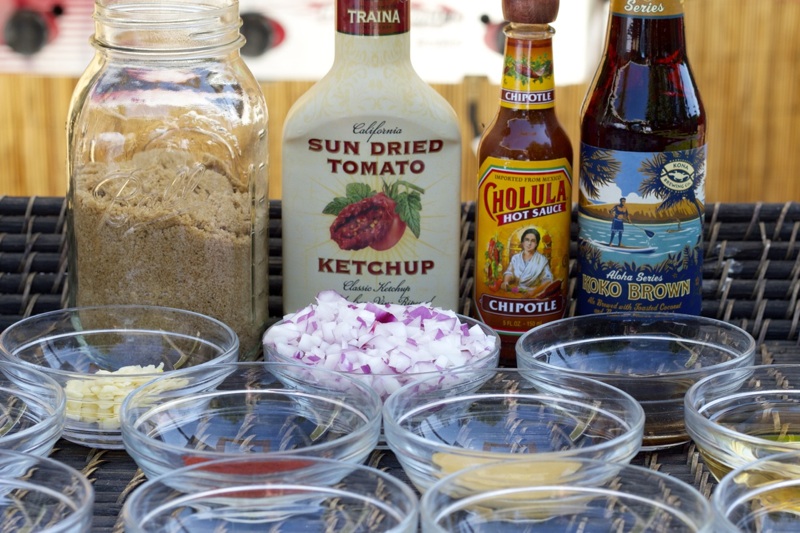 My Homemade BBQ Sauce Recipe!
Ingredients
1 red onion, small dice
3 cloves garlic, minced
2 cup brown sugar
2 cups California Sun Dried Tomato Ketchup
½ cup Kona Brewing Co. Koko Brown Ale
½ cup apple cider vinegar
1 tbs Worcestershire sauce
1 tsp honey mustard
2 tsp paprika
2 tsp sea salt
1 tsp coarse ground black pepper
3 dashes Cholula Chipoltle hot sauce
½ tsp celery seed
1 tsp chile powder
1 tbs olive oil