McCormick Brown Sugar Bourbon Pork Tenderloin recipe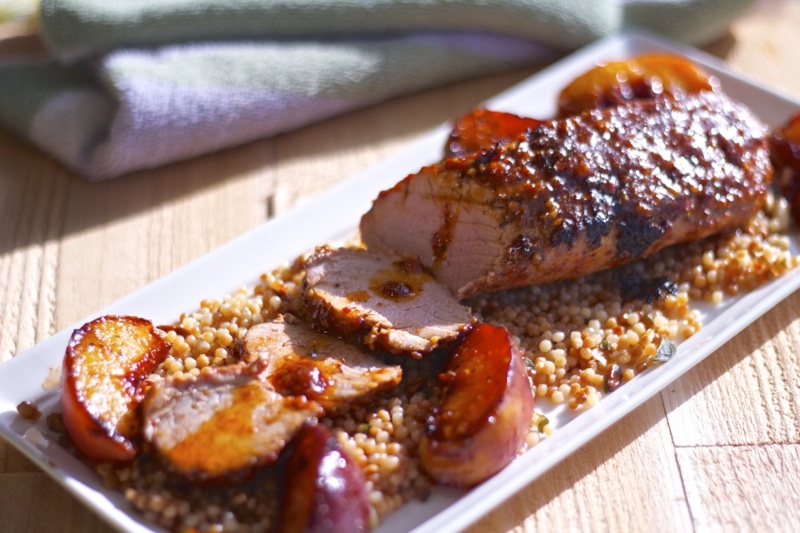 What do Pork Tenderloin, McCormick seasonings, Island Grillstone, Raley's and Four Roses Single Barrel Kentucky Straight Bourbon Whiskey all have in common? They were all invited to dinner at my house for a grilling recipe special event called "Eat fast because it won't last long"! Seriously, the misses and I gobbled this McCormick Brown Sugar Bourbon Pork Tenderloin recipe down faster than a BBQ contest judge tackling their first samples – poof and it was gone! A tad bit embarrassing but it was that good…
This grilling recipe comes from my friends over at McCormick Grilling Recipes website and it was originally created as an appetizer served on top of Corn Bread but I just can't leave anything alone and decided it deserved a first class upgrade to dinner. I did use their original recipe which included grilled peaches and I made some seasoned Israeli Couscous to complete the meal.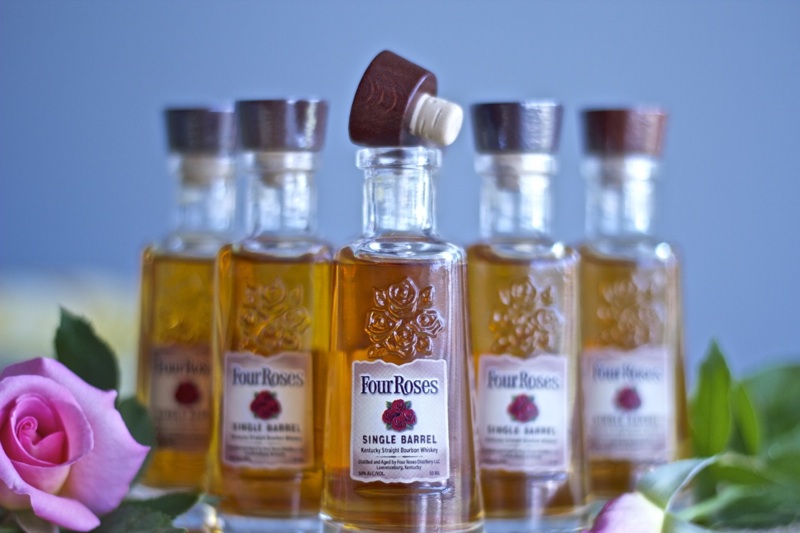 The fine folks over at Four Roses Single Barrel Bourbon sent me a few samples to try and this was the perfect recipe to start sampling with – well I only sipped a few samples – the rest did go into the recipe.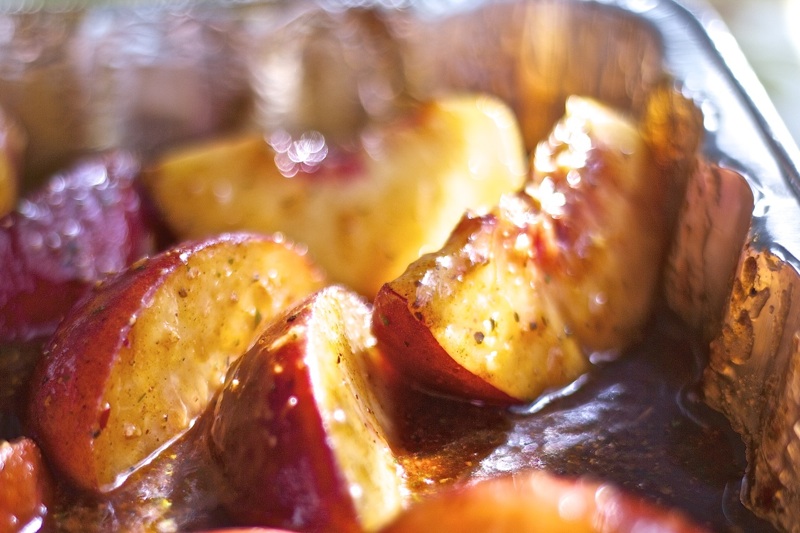 To start things of right, I picked up some Pork Tenderloin and fresh local Peaches over at my Raley's Grocery Store which is where I pick up the majority of food products you see here on Cooking-Outdoors.com. Both the Pork Tenderloin and the Peaches needed to be marinated.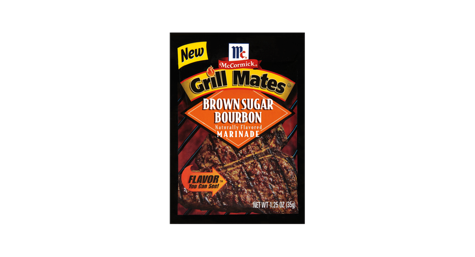 As the recipe describes, I used McCormick Grill Mates Brown Sugar Bourbon Marinade.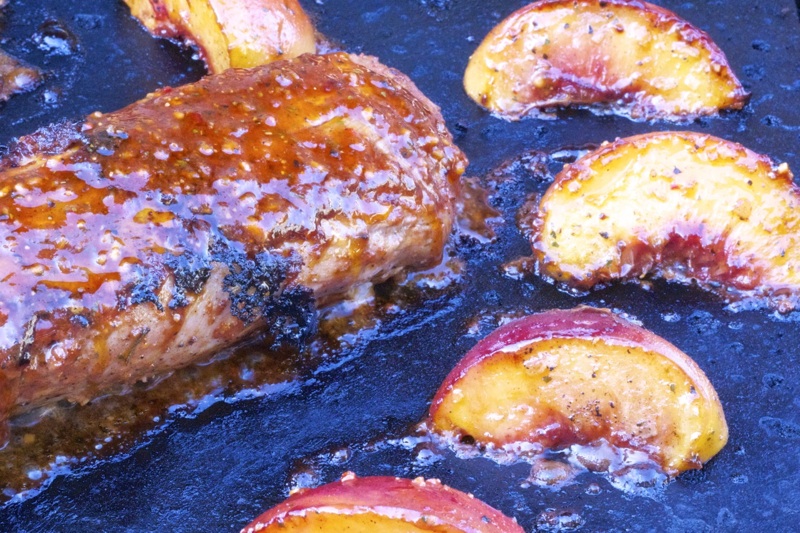 Once the Pork Tenderloin and Peaches had marinaded for the recommended time I grilled them on my Island Grillstone till the Pork reached an internal temperature of 150° F, just so there was a hint of pink inside which is my personal preference.
For the Israeli Couscous, I simply browned the Couscous and cooked it following the instructions on the box then added some sauteed Pine nuts and fresh Marjoram from my herb box. Delicious!
McCormick Brown Sugar Bourbon Pork Tenderloin recipe
Prep time:
Cook time:
Total time: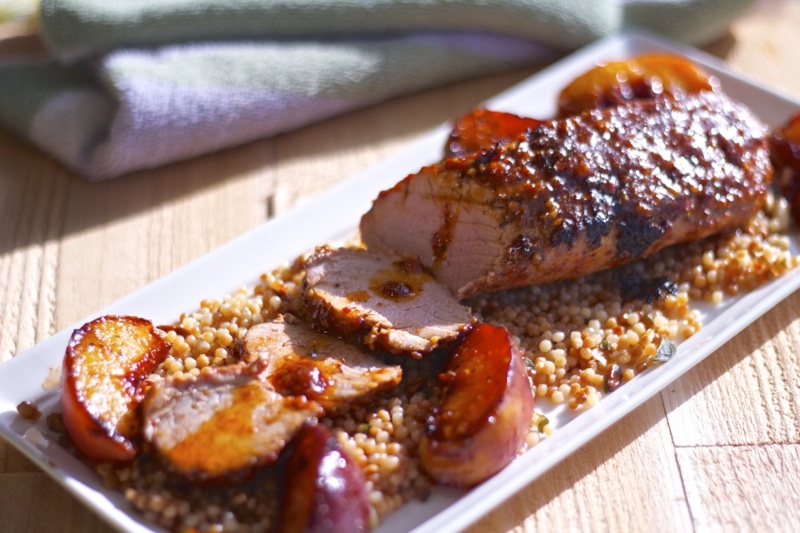 Ingredients
1 package McCormick® Grill Mates® Brown Sugar Bourbon Marinade
¼ cup vegetable oil
2 tablespoons bourbon
2 tablespoons orange juice
1 pork tenderloin, (about 1 pound)
Grilled Peaches:
1 package McCormick® Grill Mates® Brown Sugar Bourbon Marinade
¼ cup firmly packed brown sugar
¼ cup (1/2 stick) butter, , melted
1 tablespoon Four Roses Single Barrel bourbon
2 peaches, , cut into ¼-inch slices
Instructions
Mix Marinade Mix, oil, bourbon and orange juice in small bowl.
Reserve ¼ cup marinade for brushing.
Place pork in large resealable plastic bag or glass dish.
Add remaining marinade; turn to coat well.
Refrigerate 2 hours or longer for extra flavor.
For the Grilled Peaches, mix Marinade Mix, brown sugar, melted butter and bourbon in large bowl until well blended.
Add peach slices; toss to coat well.
Let stand 1 hour.
Remove pork from marinade.
Discard any remaining marinade.
Preheat Island Grillstone to 400°F.
Grill pork on Island Grillstone 10 minutes then flip and continue grilling until desired doneness, brushing with reserved marinade halfway through cooking. Discard any remaining marinade.
Grill Peaches on Island Grillstone, caramelizing each side, about 5 minutes on each side.
Let pork stand 5 minutes.
Cut into ¼-inch slices.
Serve with Peaches.
To browse the entire Grilling Edition Flavor Forecast, recipes and images, visit http://grillingflavorforecast.com/ and http://www.flavorforecast.com/#the-future-of-flavor. To connect with other grilling enthusiasts and join The Grillerhood, visit http://www.facebook.com/GrillMates.
Note: Full disclosure, McCormick Grill Mates is providing compensation for content reviewing their products and programs. All comments, opinions and reviews are my own.