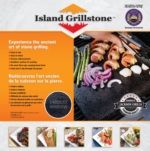 Cooking on natural stone over an open flame has been practiced for centuries by many cultures, including the Mongols, Egyptians and Vikings!
Now this ancient art has been adopted to the modern barbeque for a healthier, gourmet style of outdoor cooking!
The Island Grillstone™ is a NEW barbeque accessory made of naturally porous volcanic rock  cut to fit most barbeques.  It's unique properties allow The Island Grillstone™  to hold the natural flavor, moisture and nutrients in the food, while preventing flare-ups that cause charring. The perfect surface for delicious meat, seafood and vegetables.
Here are some of the recipes I have already made on my Island Grillstone:
English Muffin Burgers – video
And several more that I never posted on Cooking-Outdoors.com! My Island Grillstone never leaves my grill becoming a permanent enhancement allowing me to improve my grilling skills adding unique flavors and tastes to my meals.
Benefits
No more flare-ups or charred food (healthier eating)
No more cold (or hot) spots (food cooks evenly)
Foods retain moisture, nutrients and natural flavor
No more food slipping through the grill
Use marinades and sauces right on the grill with no flareups or burning
The cooking surface cures to a porous "no-stick" finish
Enjoy
Tender steaks and chops and moist evenly-cooked chicken
Delicate salmon and other fish grilled to perfection without foil wrap
Crisp asparagus, tangy onions and succulent falvorful mushrooms
Let your imagination be your guide...you can even cook pizza
Cooking, Cleaning and Seasoning the Island Grillstone
Size
14" x 14" x 0.75" (square model)
14" x 0.75" (round model)
Updating...