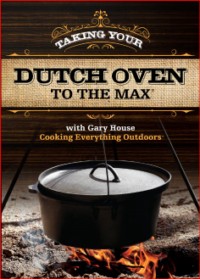 Now Available!

I can't describe how excited I am finally able to produce this DVD for you. It's taken me many months to put it all together and now I am releasing it to the world!
Following the positively received series of articles describing how I use my Dutch ovens for Grilling, Smoking, Kabob's and Ice Cream, I put together this four episode DVD showing, step by step, just how I do it.
Recipes include: Smoked Salmon, Grilled steak, Shrimp and vegetable Kabob's plus Cookies and Cream Ice Cream!
I walk you step by step through each recipe showing you how easy they are to prepare! No guess-work involved, I will take your Dutch oven cooking skills to new levels of fun!
Perfect for mastering you Camp Cooking skills!
One Dutch oven to cook everything!
Runtime 49 min
People who bought this item also bought
Updating...