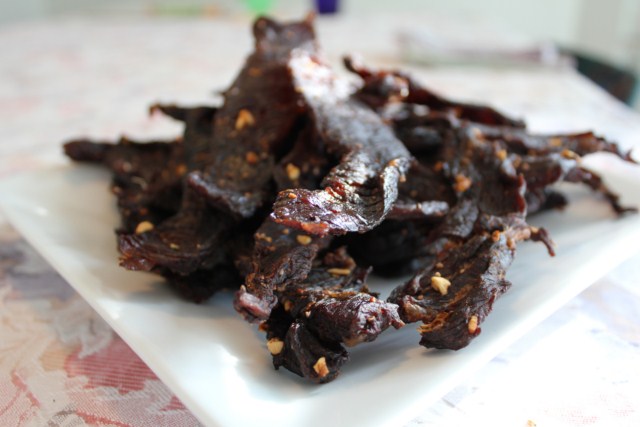 Technically, not cooking outdoors as I do with all of my other recipes but I have been banished from the house when I make beef jerky, the smell is undesirable to the Mrs. In order to keep peace in the household you just have to compromise, roll over and have your belly scratched and then go do what your told – I learn that from my ever present chocolate lab "Bailey", except she still does what she wants anyway … hummm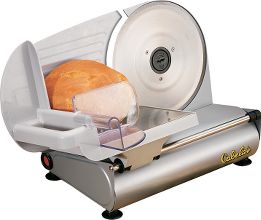 I have a new slicer that needed to be put to the test, along with almost a two pound slab of London Broil and a great recipe from my "Quick and Easy" series of cookbooks "100 Classic Jerky Recipes". I picked up a Pro 150 slicer from Cabela's a month or so back. 8 1/2″ stainless steel blade, 150 watt of power, cuts up to 5/8″ slices, small and compact. The slicer worked out OK, but I need to remember to keep the meat partially frozen to get even cuts, it kept pulling the meat down as it cut and I ended up with a flap hanging down from the main slab as I sliced away. Plenty of power, solid construction and fairly quite all to my liking. Try Cabela's.com for this and several other food slicers.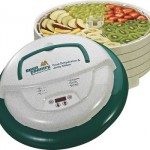 One of my favorite accessories is a Open Country dehydrator. I make applesauce fruit roll-ups for my boys and dried strawberry for friends as gifts. Blueberry's, apricots, bananas, onion and jerky are regular items for my Open Country 1,000 Watt Digital Dehydrator. I really love this model and keep it going as much as possible. A 1000 watts dehydrator, up to 20 stack-able trays, Clean-A-Screen, Fruit Roll Sheet, Add-A-Trays are available as extras.
With the Open Country dehydrators digital controls I can easily set the temp and the time without the help of the tech department. Nicely designed with great colors to blend into most kitchens (I leave mine on the counter) and a quite fan purring its white noise in the background allowing you to co-habitat in the same room. I run mine mostly at night while we sleep and the whirling noise of the fan is very minimal. Try Open Country.com for this and several other dehydrators.
 Jim's Beef Jerky Recipe
I have absolutely no clue to who "Jim" is in this recipe but thank you all the same, its a great recipe!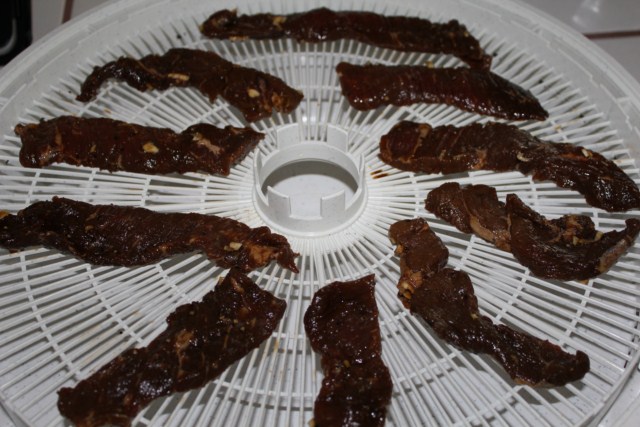 It was a simple process to slice, marinade and deploy the jerky onto the dehydrator. I marinated the jerky for 24hrs, placed it on the trays, set the temp to 160° F for 8 hrs and walked away (after I placed the dehydrator outside).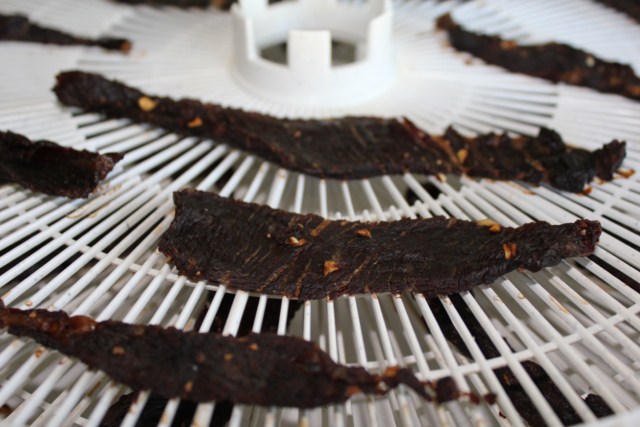 After 8 hrs, the jerky is dry and ready to eat!
Notice the white bits? I used fresh minced garlic in the marinade and it clung to the jerky, made for a nice addition to the finished beef jerky.
If you are interested in more Jerky recipes then check out my 100 Classic Jerky Recipes cookbook available in my store.
| | | |
| --- | --- | --- |
| Jim's Beef Jerky Recipe | | Print |
Prep time:
Cook time:
Total time:
Recipe is from my Quick and Easy series of cookbooks. "100 Classic Jerky Recipes" available in the Cooking-Outdoors store.
Ingredients
1 pound steak or roast
5 tbs soy sauce
3 tbs Worcestershire sauce
2 tbs brown sugar
1 tsp paprika
½ tsp pepper
½ tsp garlic powder
½ tsp onion powder
Instructions
Trim all of the fat of the meat and slice into ¼" thick strips.
Mix other together together.
Marinate the meat overnight in the mixture.
Place beef strips on dehydrator trays, leaving space for airflow.
Dry for 8 hrs at 160 degrees F till moisture is gone.
Cool and store in a tightly covered jar of sealed plastic bag.
Notes
I used minced garlic in place of garlic powder. Recipe can be made in a oven: Line cookie sheets with foil and arrange meat on it in a single layer, Dry for 8 or more hours at 200 degrees F, turning every two hours.
Related Reading: