This is a guest post from my friend Lynda. She writes a daily blog about farm life in East Africa.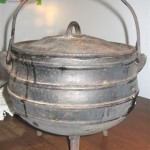 Potjiekos is a South African dish which is basically a meat and/or vegetable stew cooked in a 3 legged cast iron pot over an outdoor fire. The word 'potjiekos' is an Afrikaans word (one of the languages spoken in South Africa) which directly translated means 'pot food' and is pronounced "poy-key-cos". 
The only thing limiting you when it comes to making potjiekos is your imagination ! You could have a lamb/mutton, beef, pork, chicken or even a seafood potjiekos. You can add whatever vegetables you happen to have on hand, and liquids added can include stock, wine or even beer ! Potjiekos curries are also popular, as is "pot brood" which means "pot bread" and is bread baked directly in the pot.
The pot which I use measures 23 cm (9 ") in diameter and is about 22 cm (8.6") high without it's lid on. (It is very heavy, as you can imagine !)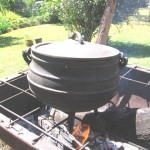 To make a fire I usually just use wood (you could use charcoal if you prefer) and I start the potjiekos when the fire is still quite hot (but not too hot) – this is when I usually brown the meat and onions for example, and then once the flames have cooled down a little, I add the rest of the ingredients and leave the potjiekos to simmer over the smoldering coals until everything is nicely cooked and the flavors have all developed. 
Here is one of my favorite potjiekos recipes -:
 Beef & Vegetable Potjiekos
 3 tbsp Flour
 1 tbsp Mixed Herbs
Olive Oil
3 Onions, cut into wedges
8 cloves Garlic, sliced
1 x 400 gm (14 oz) tin peeled Tomatoes
2 Potatoes, cut into wedges
4 Carrots, sliced into rounds
1 bunch Leeks, (tops removed), sliced into rounds
3 large Zucchini (Courgettes), sliced into rounds
3 cups Beef Stock (I use 2 stock cubes in boiling water)
Salt & Pepper to taste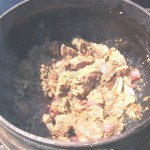 Mix the flour & herbs together & toss the beef cubes in the mixture so that they are well coated. Next, pour some olive oil into your pot and fry the onions, garlic and the beef until browned. Add the tin of tomatoes and stir. (You can add some salt and pepper now, if you like.) Then layer the vegetables on top of the beef/onion/tomato mix, according to how long they take to cook. For this recipe I place them in the following order – potatoes, carrots, leeks, zucchini. Now pour the beef stock into the pot, add some more salt & pepper and close the lid. After 1 hour, remove the lid & gently stir and then leave for a further 15 minutes before removing from the fire and enjoy served on a bed of rice.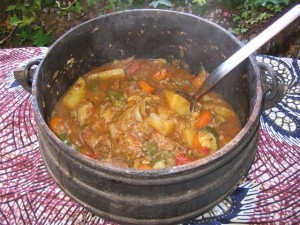 Thank you Lynda!!!
Please visit Lynda's blog for more recipes and stories about her life on a remote farm in the foothills of Kilimanjaro, East Africa 
Note:
Potjies come in various sizes from size 1/2 (1.7 liters) to size 3 (8.8 liters). A size 3 is ideal for a family of four. There are two types of potjie's a "Plat Potjie" (no legs) and a "Traditional Potjie" (with three legs).

If you are interested in doing a guest post on Cooking-Outdoors.com, please send a email with your subject to blog-admin@cooking-outdoors.com
"Get out of the kitchen! Light the fire! Start cooking outdoors"
Related Reading: