Summer Dinner Party with McCormick Grilling Flavor Forecast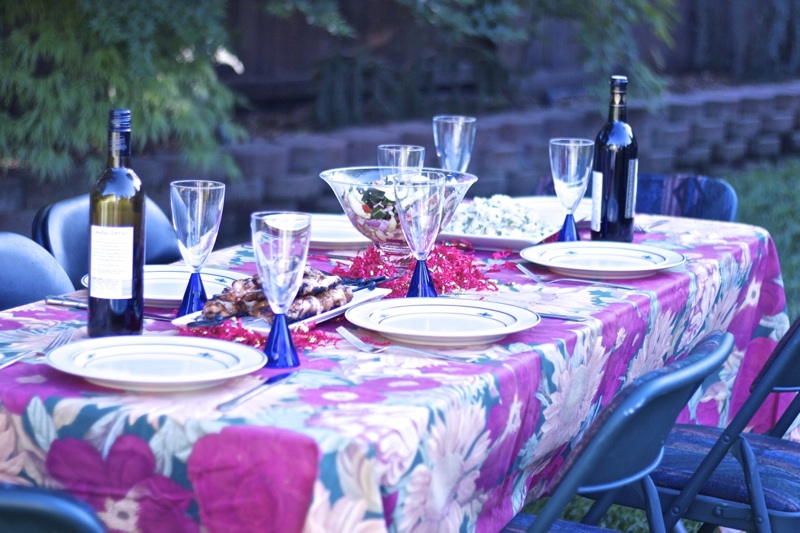 This year has been a busy one for us, camp for the boys, mini vacations squeezed in around other obligations, work schedules and the myriad of other trivial things that just keep us involved. Finding time for friends has been difficult as well, so I was really excited when we finally found a free night to share a summer meal with some of our great friends and their children for a night of grilling and sharing! Of course the grilling menu is left up to me but that's what I enjoy anyway, cooking that is, creating the menu is and probably will always be the difficult part of the party. Luckily I was able to use one of my favorite resources for grilling recipes, McCormick Grilling Flavor Forecast for inspiration.
You have heard me exclaim the ease of using the Grilling Flavor Forecast before in my precious posts, showing you how helpful it is to narrow down your flavor profiles, making grilling recipe selection so much easier to do with this as your guide. Well, to prove my point, that is exactly what I did to prepare for our dinner quests. Having gone through the process of defining my flavors profiles previously, I simply went to McCormick.com Grilling Recipes and browsed through the selected recipes based on my personal preferences. Simple!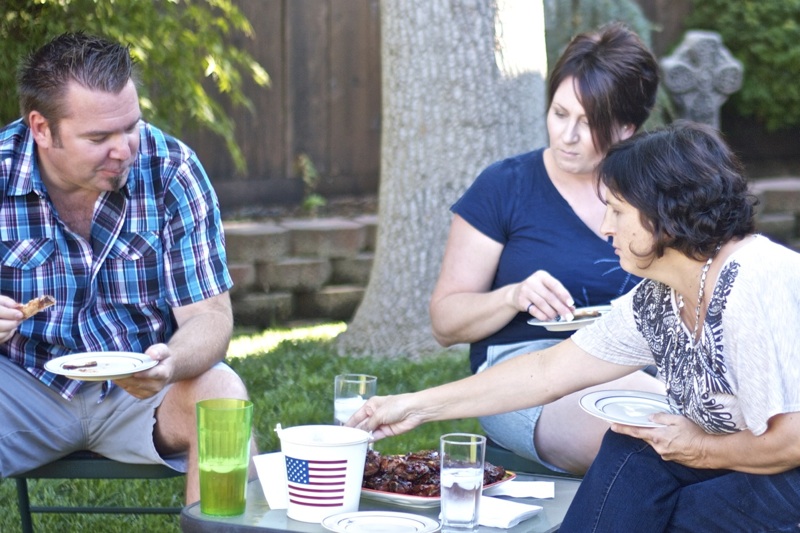 Since I already new what I was making for Hors d'oeuvre, "Bacon Wrapped Ribs bites" a modified version of my Bacon Wrapped Ribs recipe, the rest was easy using the McCormick.com Grilling Recipes as my guide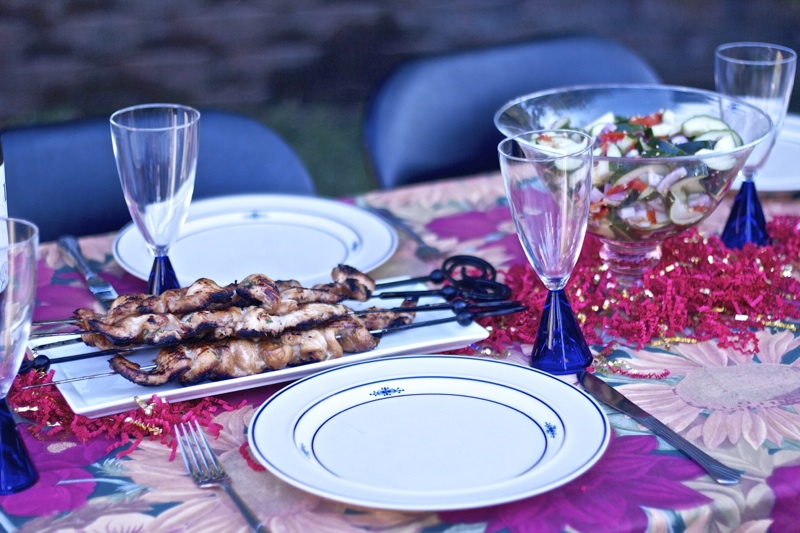 I needed a recipe that would fit the light and easy summer grilling party we were having and the boys (all 4 of them) would love. McCormick Asian Chicken Skewers recipe fit the menu perfectly. Light, sweet, everyone loved chicken and they were fast to grill and even faster to prepare!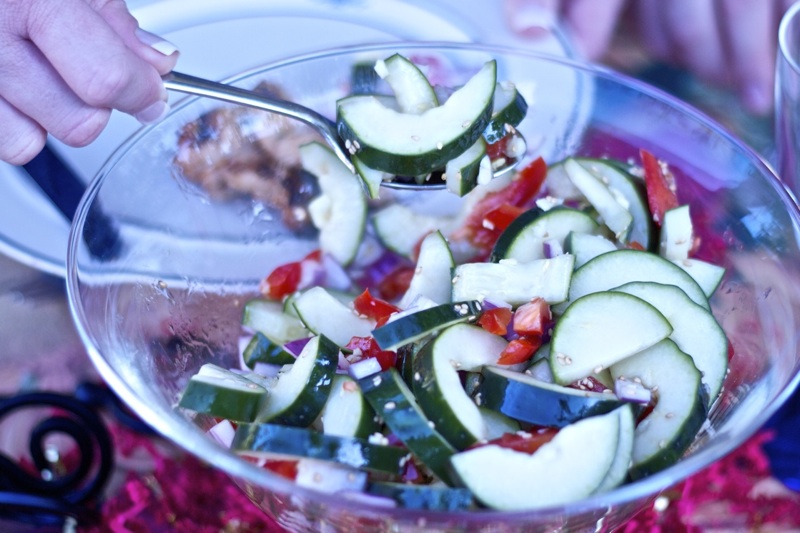 My second menu item, Asian Inspired Cucumber salad came from McCormick "Cool Cucumber Salad" recipe. I made some modifications after deciding to continue my "Asian" theme by introducing red bell peppers, onion and a sesame seed vinaigrette prepare just before serving.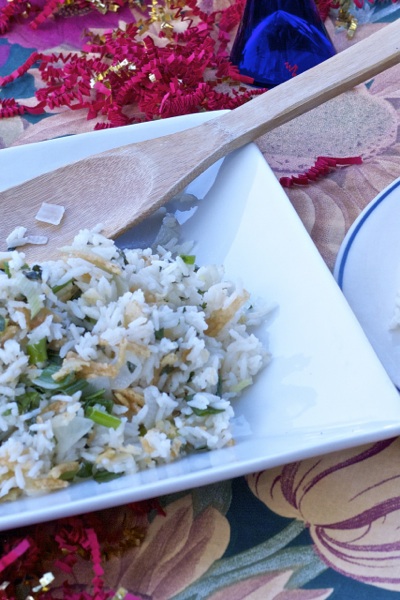 The final recipe on the menu was a Coconut Infused Rice Pilaf that I cooked outside to accompany the other dishes, light, flavorful and a delicious fried onion crunch that is out of this world.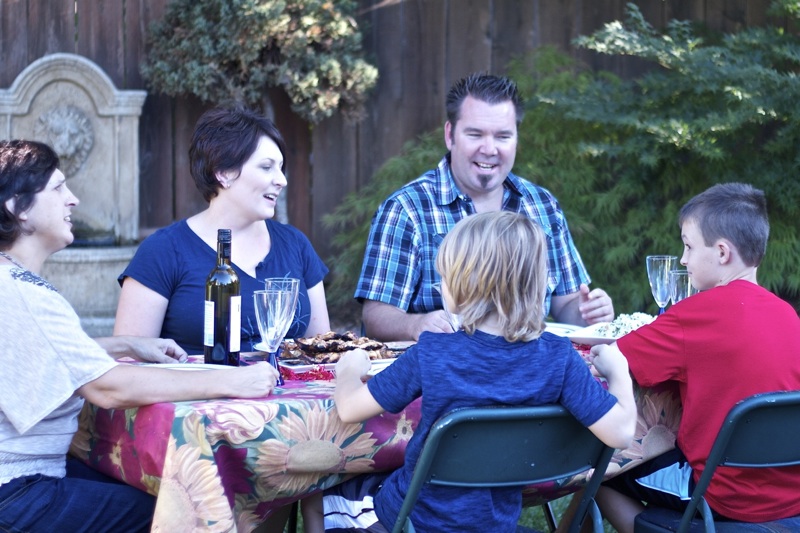 From start to finish, this was a fun evening for my family. Good friends, good food and the cook scored some big fan points with everyone, including the boys and that is hard to do. I cooked everything outside, Bacon Wrapped Ribs Bites and the McCormick Asian Chicken Skewers on a charcoal grill, Coconut infused Rice using a skillet on propane burner and the Asian Cucumber salad .. well, it never touched the flame but provided a delightful balance.
You might be asking where was I in the photos? Behind the camera – I wasn't clever enough (at the time) to take the photos with the camera timer…
McCormick Grilling Flavor Forecast was my inspiration and made the menu planning such an easy process, allowing me to select recipes and modify to my personal tastes. The party was a hit, lots of accolade ( you can never get enough of those) and no leftovers! A sure sign that the food was great or I made to little – nah! It was great!
| | | |
| --- | --- | --- |
| Asian Chicken Skewers Recipe | | Print |
Prep time:
Cook time:
Total time:
Asian-flavored chicken strips are woven onto skewers for quick cooking. [url:2]Asian Chicken Skewers Recipe [/url]
Ingredients
¼ cup soy sauce
3 tablespoons orange juice
2 tablespoons honey
1 tablespoon vegetable oil
½ teaspoon sesame oil
1 teaspoon McCormick® Cilantro Leaves
¼ teaspoon McCormick® Garlic Powder
¼ teaspoon McCormick® Ginger, Ground
1 pound boneless skinless chicken breast halves, cut into ¾-inch strips
Instructions
Mix soy sauce, orange juice, honey, vegetable oil, sesame oil, cilantro, garlic and ginger in medium bowl.
Place chicken strips in large resealable plastic bag or glass dish.
Add marinade; toss to coat well.
Refrigerate 15 minutes or longer for extra flavor.
Remove chicken from marinade.
Discard any remaining marinade.
Thread chicken strips onto skewers.
Broil or grill over medium-high heat 4 minutes per side or until chicken is cooked through.
To browse the entire Grilling Edition Flavor Forecast, recipes and images, visit www.grillingflavorforecast.com, http://www.mccormick.com/recipes/grill-mates and http://www.flavorforecast.com/#the-future-of-flavor.
To connect with other grilling enthusiasts and join The Grillerhood, visit www.facebook.com/GrillMates.
Note: Full disclosure, McCormick's Grillmates is providing compensation for content reviewing their products and programs. All comments, opinions and reviews are my own. Gary House