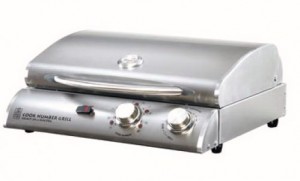 Sear it, set it and cook, has a simplicity that I find appealing. If I was to pick one single fact that prevents people from cooking outdoors on their grill, it would be the fear of burning their food. I field this topic many times and this single reason has left many a grills sitting outside rusting away, unused. Now there is a solution to this and a few other issues that Cook Number Grills has addressed.
Outdoor Great Rooms recently sent me a "Cook Number Electric Grill" model LG20ie to try a few meals on and get my opinion. Just opening the box was enough to influence my initial opinion! Stainless Steel, compact, portable, electric and full featured with several innovative ideas packed into it. The perfect size for the patio cook, small family, RV'r and the fearful griller. Mrs. Outdoor-Cook took one look at this beautiful grill and claimed some sort of imminent domain marriage rights to it ….
Clearly, making grilling easy and fun was the first and foremost consideration when this grill was designed. Solving several grilling issues while designing a beautiful grill that will look good while it cooks is very obvious
First they solved the fear of grilling by creating their "Cook Number" system. Simply designed to cook your food to a perfect internal temperature using a probe and a dial. Brilliantly simple, you select the doneness of your desire and the grill will notify you when it has reached this internal temperature. If you prefer your steak cooked to a perfect medium, then you set the dial to "Beef medium", insert the temperature probe into your steak, close the lid and wait till it beeps! Brilliant!
Second, they solved the perfect sear issue, or at least made it brilliantly simple. Cook Number Grills installed a sear plate on their grill adjacent to the cooking grate. Searing helps seal in the juices allowing your food to retain internal juices while cooking. Cook Numbers Sear plate reaches 500 degrees in just a few minutes, place your food on the sear plate for 1 minutes or so on each side to sear and seal before grilling. The Cook Number Sear plate has a number of useful settings allowing you to roast or bake on it if you choose. Vegetables, Bacon & Eggs or an Omelet would be perfect also.
Third and final observation is the Green technology of an Electric grill vs. Gas. Electric grills consume 10 – 20 times less energy to operate than a propane gas grill.
My first grill on the Cook Number Electric Grill was a nice Sirloin Steak. Just a steak rub was all I needed to flavor up to my liking and a perfect sear to get started. I flipped on my electric grill, turned the searing dial to high, waited several minutes for it to reach optimum searing temperature and placed the steaks on the sear plate.
There is something special about the sound of searing food that is almost primal. A prelude to the delights about to tantalize your taste buds. The searing sounds your ears receive and then transmit to your nose as a warning that soon sensory overload will be approaching. The smells are about to overwhelm you, setting off pre-rumblings in your deprived, empty and neglected stomach. WARNING! WARNING! WARNING!
Less than three minutes of sear time (approximately one minute on each side) and I was ready to grill! A simple task of transferring the steak several inches to the left onto the heavy Stainless Steel grate. Switching the dial to grill set things in motion, only leaving the temperature probe to insert. Medium to medium-well is where I like my steaks and this is so close to burnt that there is no room for error. Turns out that the Cook Number Electric Grill needed zero help from me to produce the desired doneness.
Cook Number Electric Grill is pre-programed to grill to your desired doneness every time by simply setting the Cook Control System dial to the desired setting. From rare to well done, tuna to whole chicken, including temperature labels the Cook Number Electric Grill Has a setting to cover everyones taste.
Once the steaks were set and the temperature probe inserted into the steak, I simply closed the lid at let the Cook Number Electric Grill do it's thing. A big bonus in my opinion is the Cook Control Systems dial with the five red lights that show you what doneness and temperature the food is at. You always have the option to change your mind if you want the food rarer than you first selected or prefer to cook to a certain temperature. In my case, the meat was set for medium, so once the internal temperature reached 155 degrees F the red light turns on and the grill will beep. Brilliant!
My first experience with the Cook Number Electric Grill has been a positive one. The steaks were done to perfection, usability was excellent and clean-up was a breeze. If your looking for a grilling solution, then the Cook Number Electric Grill is one you will need to check out. Visit the great people over at Outdoor Great Rooms and look at their selection of Cook Number Grills in both electric and propane models. The Cook Number Grills are available in full size patio grills and smaller portable units covering to needs of a wide range of grillers.
Sear it, Set it and Grill it to perfection with the Cook Number Electric Grill from Outdoor Great Rooms.
Related Reading: