Il Fiorello Olive Oil Company – Traveling4Food
When venturing through Fairfield, California you might think of the Jelly Belly Candy Factory or perhaps Travis Air Base; I am sure you never would have added Olive groves, Olive oil Tasting, or Gourmet Cooking Classes to the list, but you should!
The city of Fairfield, is located halfway between San Francisco and Sacramento, California in the north eastern top half of the San Francisco Bay area, with a population of about 110,000 people. It's a dry, windy section of the state  surrounded by beautiful rolling hills, full of wildlife, grape orchards and farms, with surprising out of the way points of curiosity. Unique antique stores, restaurants, fruit stands, wine tasting and for the past several years, Olive groves!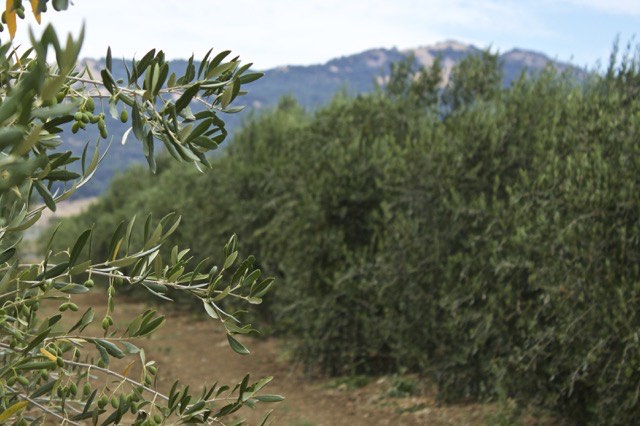 Turns out that the Fairfield region has the perfect growing conditions for exceptional olive tree growing.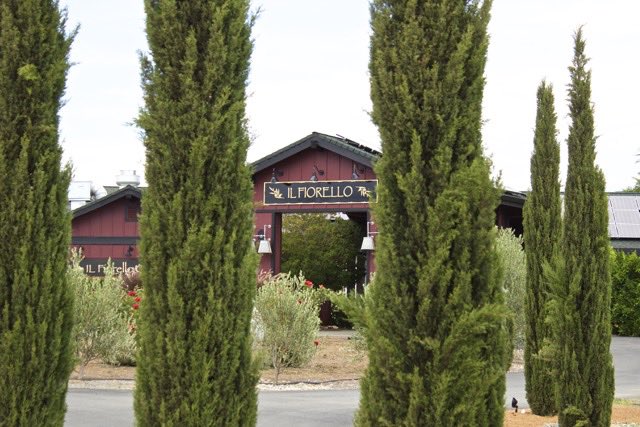 If you remember, previously I shared a review of Il Fiorello Olive Oil, Balsamic Vinegar and Blended Olive Oils – superb flavor, taste and quality a few weeks ago. Now I enjoyed the pleasure of visiting the Il Fiorello Olive Oil Company facilities, which included a personal tour of their Olive Grove and an informative Olive Oil tasting session with owner Mark Sievers. Mark and and his wife Ann are the owners of Il Fiorello Olive Oil Company and the most gracious hosts I have ever encountered.
"Il Fiorello is owned by Ann Fiorello Sievers and Mark Sievers. Ann is a third generation descendant of "The Chief," Dominic Fiorello, who immigrated to America in the 1860′s. The Chief's family traces its roots from Sicily and Sant' Angelo D'alife, a village north of Naples." http://ilfiorello.com/about/
They have spent the last several years establishing their 15 acre Olive Oil grove, including a processing facility, a restored farm house complete with a gourmet kitchen, store, banquet room and Olive Oil tasting room, an organic garden including a citrus test orchard. All showing the pride and dedication to their love of Olive Oil in the beautiful rolling hillside of Solano County.
"The name Il Fiorello means "little flower" in Italian, so named after Ann's grandfather, Dominic Fiorello. She chose the symbolic name for the tiny, white flowers on the olive trees, each of which will become a delicious olive for milling into our ultra premium oil."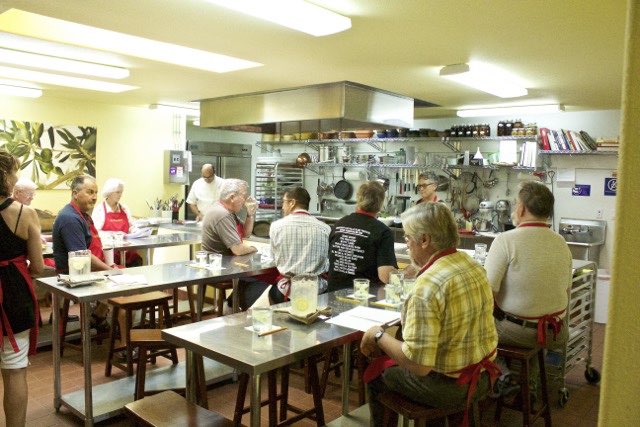 Our day included a gourmet grilling and craft beer pairing class with Executive Chef Mavin Martin, owner Ann Sievers and Sensory Scientist Sue Langstaff – but that is another story!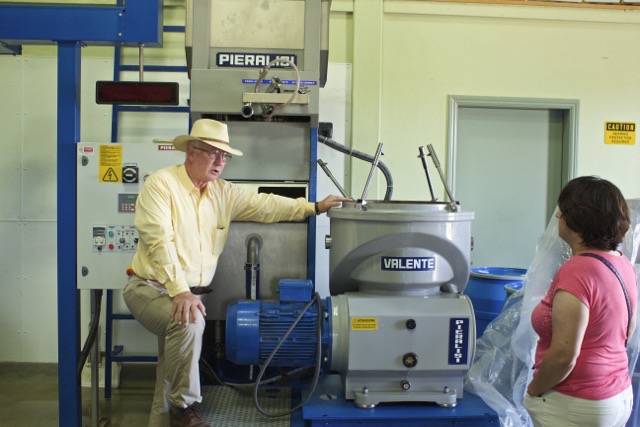 Upon arrival and after being warmly greeted by Ann Sievers, she introduced us to her husband Mark and he quickly loaded us into their tour vehicle (golf cart) and proceeded to tell us about the history of their operation and the type of Olive trees they have in their grove as we drove around.
Olive Grove Tour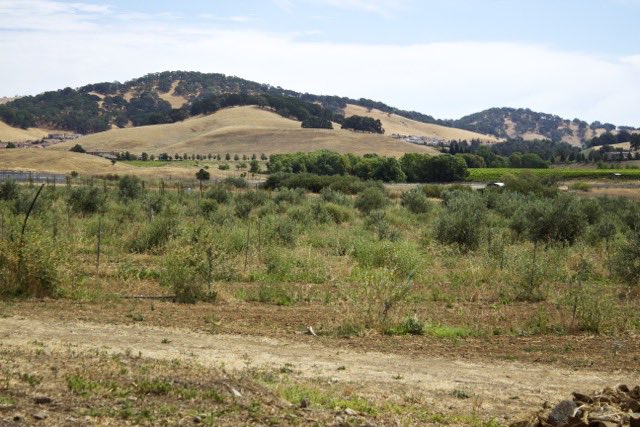 With 15 acres in stages of production, they currently have approximately 2000 trees imported from Spain, France, Italy and N. Africa. They take great pride in their grove, which is soon to be certified organic and they use water saving drip lines to nourish their trees.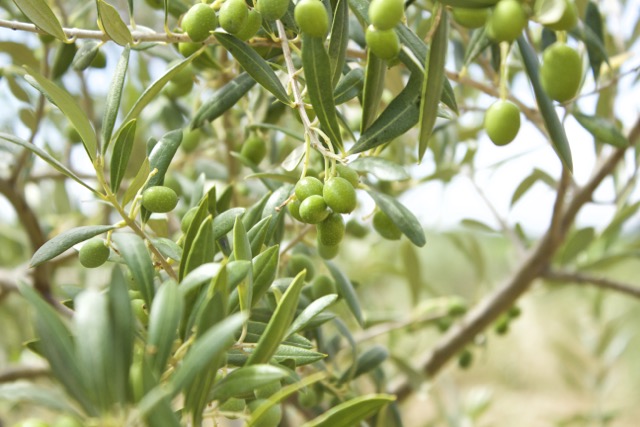 We learned some interesting facts about Olive Trees:
Olives change color as they ripen, progressing from green to black.
It takes about 20-25 pounds of olives to make one quart of olive oil but this depends greatly on the variety of olive.
Olive grow on first year wood only.
Olive trees can grow as old as 2,000 years
The most serious pest is the olive fruit fly
The Olive trees are topped to make hand harvesting easier.
Harvest typically occurs October through December.
The Olive/Olive Oil to waste ratio is 85/15.
The Il Fiorelle Olive Mill is a state of the art computer run facility that produces Olive Oil from not only Il Fiorello but neighboring Olive Groves as well.
Our tour of the Olive groves and Mill was fascinating and educational but it didn't stop there, we were soon introduced to the main Il Fiorello building which includes the Il Fiorello store, banquet room and tasting room. Mark gave us the grand tour inside while Ann was working with Chef Marvin preparing for the Gourmet Grilling Class coming up later that day. The Il Fiorello farm house has been beautifully restored and furbished with rich wood, bright paint and earthy floor tiles, giving you a calm warm welcoming feel when you walk in. I doubt very much they have plans for this but I would have welcomed an opportunity to spend a weekend here in the classic Bed & Breakfast style!
Olive Oil Tasting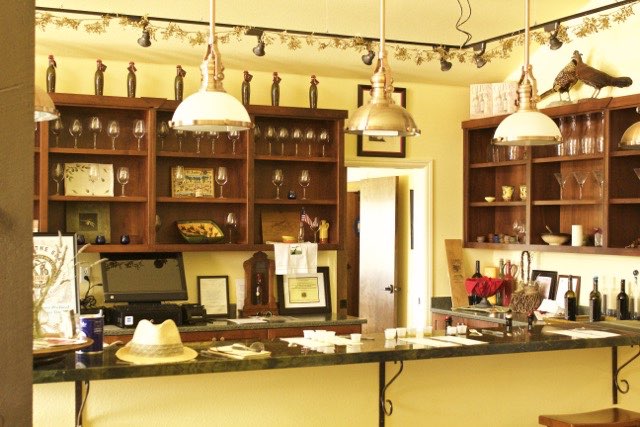 Mark Sievers wasn't done with us yet!
This incredible fountain of Olive knowledge was soon giving us our first Olive Oil Tasting experience in their beautiful tasting room and there is more to it than just dipping a piece of bread into it …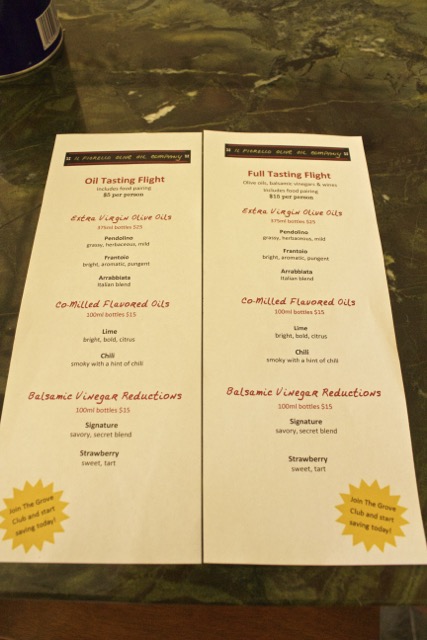 Il Fiorello offers two tastings – their "Oil Tasting Flight" at $5.00 per person and a "Full Tasting Flight" at $15.00 per person which includes wine.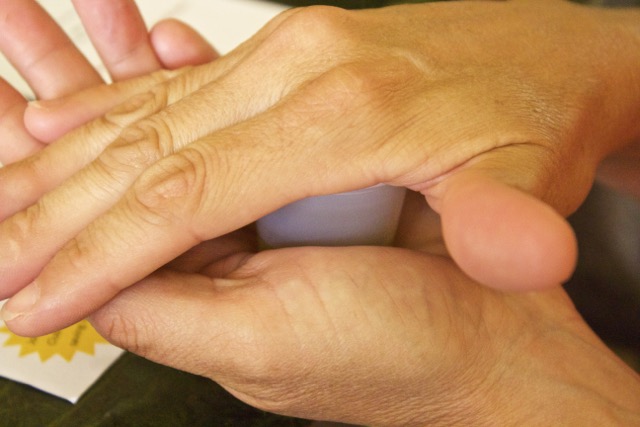 Olive Oil Tasting involves four basic steps:
Warm the Olive oil.
Smell the Olive oil.
Slurp the Olive oil.
Pair the Olive oil.
Warm your Olive oil by holding it in your hands and swirling it around a bit to trap the aromas. Smell the Olive oil closely to sense the "nose" of the oil – aromas may include fresh-cut grass, fruits, tomato, nuts, cinnamon and other herbs. Sip the olive oil and hold it in your mouth first, then suck in some air through the oil to release more aromas and flavors from it. You will find a sensation of bitterness on the tongue which can be an acquired taste for some. Finally, swallow the oil, where you will notice a pungency at the back of your throat which give you a peppery sensation. Finally, once you have tasted an olive oil by itself, the last step is to pair it with food!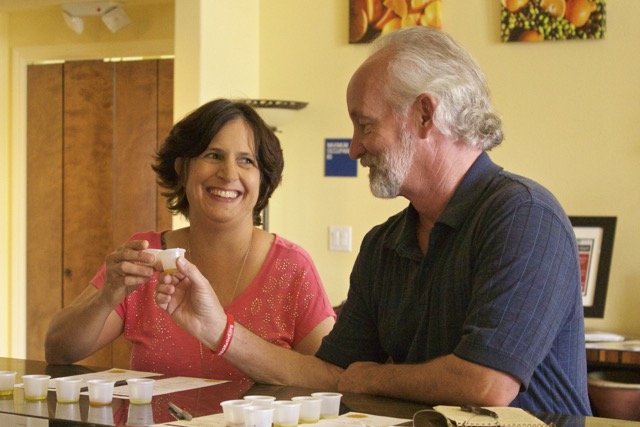 Not only did we taste Olive oil but we tasted their amazing Balsamic vinegars and blended oils of various flavors. The fun piece of this adventure was coming up with the various food pairings ideas, Mark gave us a never ending selection of food ideas to make our culinary visions bloom with creativity!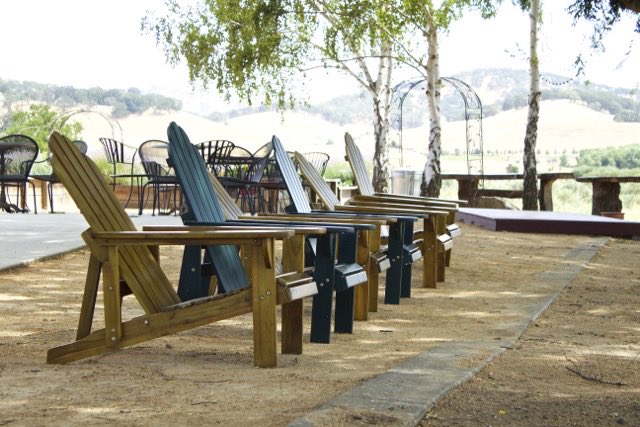 After the Olive Oil tasting you can take a stroll around the facility and enjoy a relaxing afternoon reading, thinking, napping or enjoying some of their Olive Oil Gelato Ice Cream.
Our day ending with a stop in the Il Fiorello Store to pick up some Olive Oil, Balsamic vinegars and Blended oils to take home. They offer a wonderful selection of salts, soaps, hand creams and gifts along with all of their traditional products. All of which can be ordered online.
I might also suggest that you take a look at their "Grove Club" offering:
No cost to join.
Receive 3 shipments per year featuring a combination of oils and balsamic vinegar reductions.
15% discount on purchases of oils and balsamic vinegars in-store or by phone order.
50% discount on mill tours and oil tastings for up to 6 people.
Advance notice of new products, classes, and upcoming events at Il Fiorello Olive Oil Company.
Invitation for two to attend special Members-only events.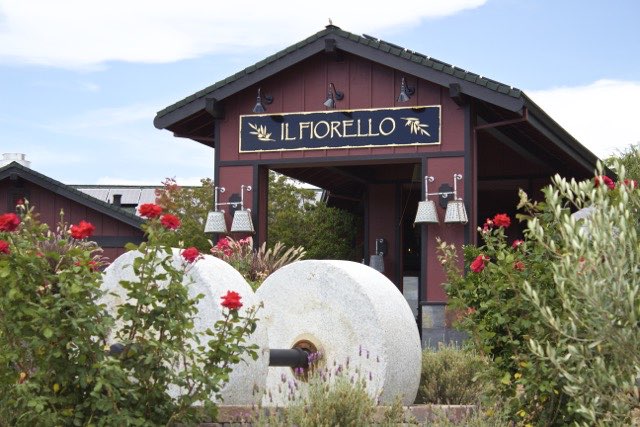 Our day at Il Fiorello was full of new sights, sensations and the making of new friends. Our hosts Mark and Ann Sievers we delightful, informative and gracious in their hospitality, we left with a richness and deeper appreciation of Olive Oils and their production. The Grilling and Craft Beer class was amazing and equally information and you will be able to read about that very soon.
Thank you so much Mark and Ann for allowing us to experience your life, dedication and love of Olive Oil!
Full disclosure: Tour, tasting and classes were provided without charge, stipulation or expectation by the Il Fiorello Olive Oil Company. All thought, expressions and reviews are my own.