What started out, innocently as an offer to help if needed, has grown to a 5 week adventure as a Camp Cook this summer, that opened my eyes to the life of a Camp Cook. Mind you, it is the life of a pampered Camp Cook, but hard work none the less!
My Adventures as a Camp Cook this Summer
My wife's family has long belonged to the Church of the Brethren, of which I have enjoyed visiting from time to time. My boys have been going to the Brethren s camp up at Clark's Fork in the high Sierra's since they were old enough to go to the fabulous kids camp they offer every year and my wife has done the same since she was a little child herself. There is a long history at Camp Peaceful Pines of generation after generation going to camp and spending the summer with their friends and family. Such a wonderful tradition.
For close to 13 years I have skillfully avoided going to camp, just not my thing, until a couple of years ago when I was finally coerced to attend. It is a beautifully wooded camp with cabins, running water, hot showers, hiking trails, creeks, games and an amazing kitchen with a dinning room to seat a few hundred people. Of course I fell in love with the kitchen and couldn't wait to get in there to learn how to use all of the commercial equipment. Heck, they even had a cooks cabin with its own bathroom and a real bed!
A Camp Cook is born
I finally received permission to entered the hallowed grounds of Camp Peaceful Pines kitchen in 2014 and help prepare meals for the "Family Camp". I was only able to help for the weekend, Family Camp ran 7 days that year, but it was non stop prepping, cooking and serving for 60ish people. We started at 6:30 a.m. and finished up around 9:00 p.m. that night with a few hours break in between. Whew, now that was hard work! It was fun cooking with my Father and Mother in-law, watching them bicker over what to do next and how to do it, real life comedians! I certainly learned a lot about large group cooking that came in handy when I started doing it on my own this year. Granted, going to culinary school helped tremendously as well, but there is nothing like running the show yourself to learn what you can and can't do.
I guess I did well enough that they asked me to do a couple of camps for them in 2015. They typically run 5 – 6 camps a year plus renting out the facility to family reunions and other church groups as needed. Camps include: Opening day camp, Discovery camp, Youth camp, Family camp, Music camp and Closing camp. Various people volunteer to run the camp as directors, camp hosts, councilors and camp cooks as needed. I was asked to do Discovery camp and Closing camp that year. As far as I could tell, no one was sickened by my cooking, a true measure of a cooks worth. My adventures as a Camp Cook were firmly rooted and I was hooked!
November of last year (2015), as many of you know, I had a heart attack. In early 2016 they asked me if I wanted to cook again at Camp Peaceful Pines, but only if I felt up to the task, and I could pick and choose what camps I would like to cook at. You do realize what this means, right? They loved my cooking and wanted me back … or I was cheap enough that they could afford to invite me back … hummm.
I choose to cook at 4 camps, Discovery camp, Family camp, Music camp and Closing camp, this year. Music camp was eventually canceled and as time drifted closer to summer, they asked me to do the Youth camp and perhaps a family reunion later in the summer. So now, I had the responsibility of head cook for 5, possibly 6, camps this year. Yes, I was excited and nervous at the same time.
Cooking for a Crowd!
As it finally worked out, I ended up cooking for 5 camps this year, totaling almost 5 weeks in the mountains at 6500 ft elevation. Highs in the low 80's while home was sweltering in the low 100's, not a bad gig after all!
Feeding large groups is intimidating, frustrating and stressful. You just never know if you have the right amount of whatever you might need at the time and there are no major grocery stores to skip over too when you need something. So I started planning early, breaking everything down by day, by meal, by recipe and the number of estimated attendees. I can tell you, that I lost a fair number of good nights sleep trying to figure this all out for the first time. Luckily I had the in-law to help me through this process, they are old pros at running this kitchen!
Discovery camp attendance was a high of 71 people, Family camp 60, Youth camp 35, Family reunion 25 and Closing camp was and easy 8. All the camps were for 5 days except Closing camp which was just for the weekend. Still, that is three meals a day for close to 200 people, which came out to be somewhere in the neighborhood of 500 – 600 servings. A huge leap from the 4 servings I make at home everyday! Of course, every meal was cooked from scratch or close to it and had several dishes to choose from.
None of this would have been accomplished without some great help from all of my sous chefs: Jacob, Sandy, Ed, Al, Kevin, Katee, Elaine and everyone else who came in to help!
Camp Peaceful Pines kitchen
Luckily for me, Camp Peaceful Pines is fully equipped with a commercial kitchen!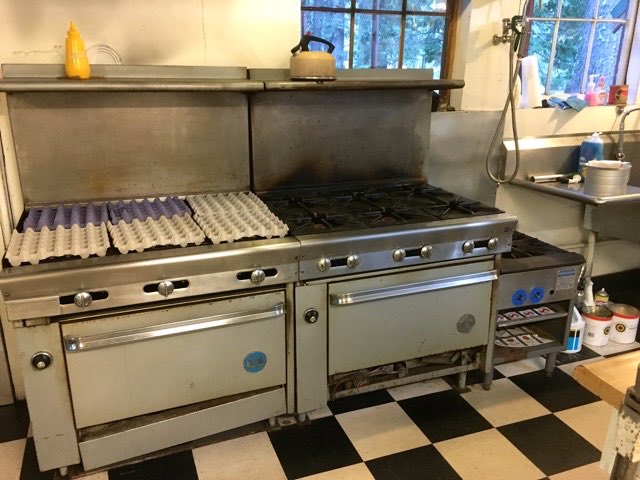 Having a large commercial sized stove to cook on never hurts!
6 burners, large griddle and two conventional ovens – tired but effective.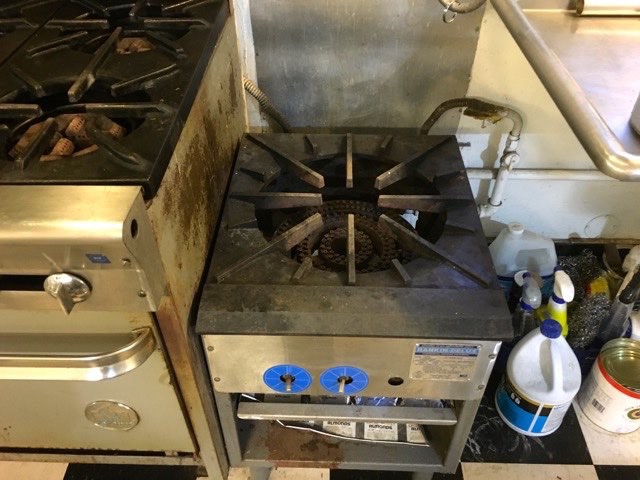 This large pot burner came in handy when I had to boil large pots of water.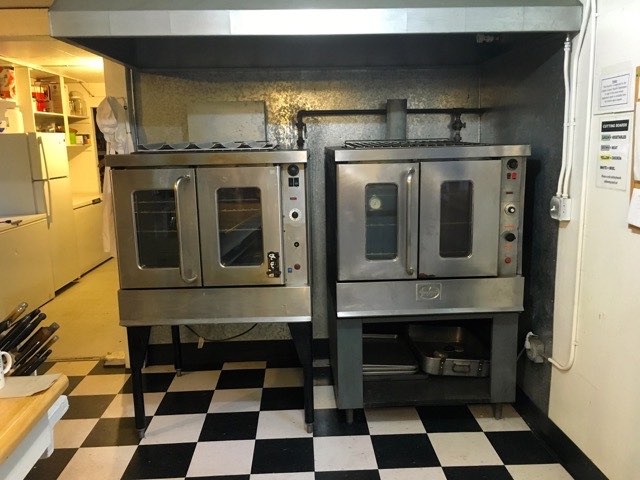 These two convection ovens were my go-to appliances at camp!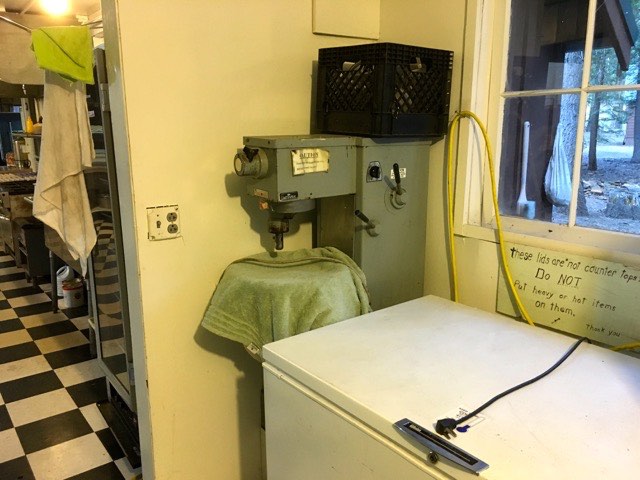 I love to make fresh French Bread at camp and this mixer is what I use to make enough dough for several loaves at a time.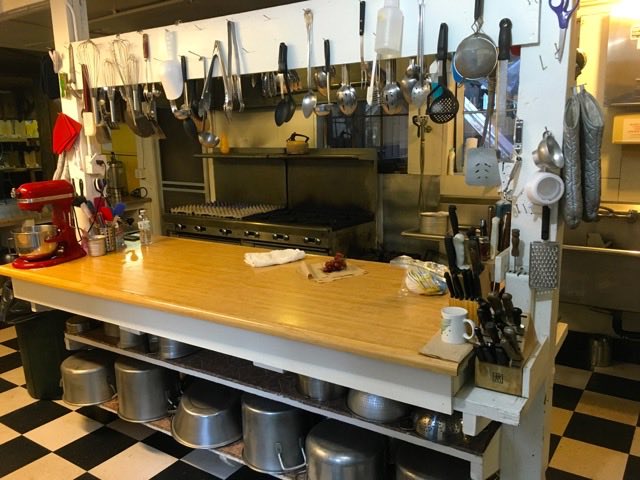 This is where it all happened!
Our small cluttered cooks table. Plenty of utensils, pots and pans for camp cooking.
The little red mixer on the left made whipping cream for dessert almost every night – a big hit at camp too!
Storing Food at Camp
Twice during camp, Sysco Food Services delivered several pallets of food goods to camp. This was just a portion of the massive amounts of food we went through!
Luckily we had some excellent storage space available!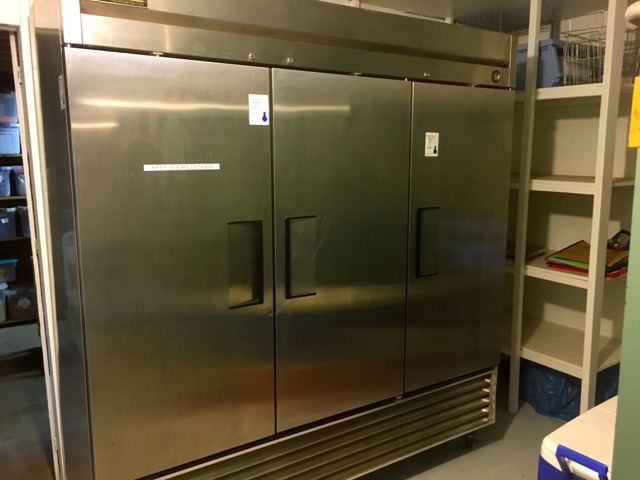 I keep all of my diary, liquids and left overs in these three stainless steel refrigerators.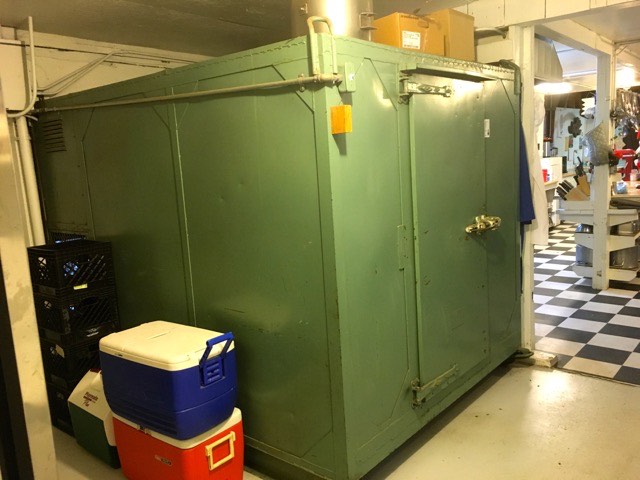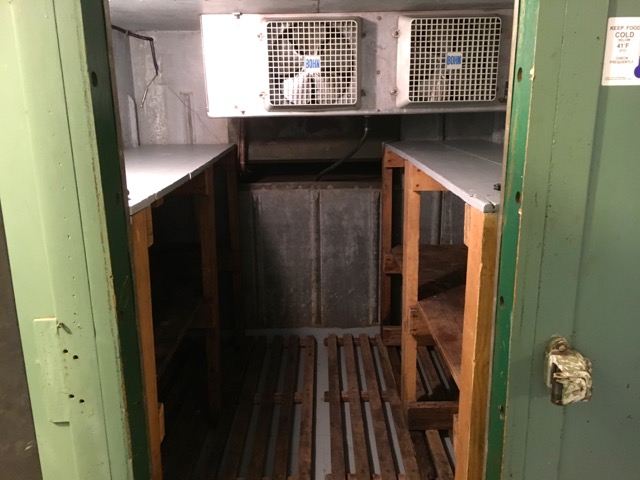 Massive amounts of produce and vegetables went into this antique walk-in refrigerator.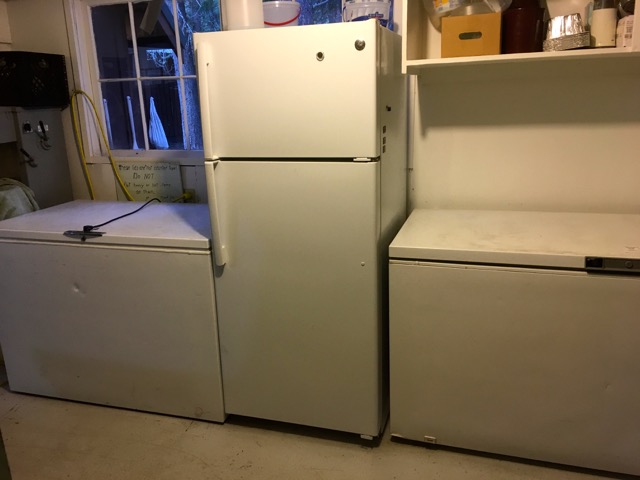 I filled up three of these large freezers and packed the center refrigerator with water for the hikers.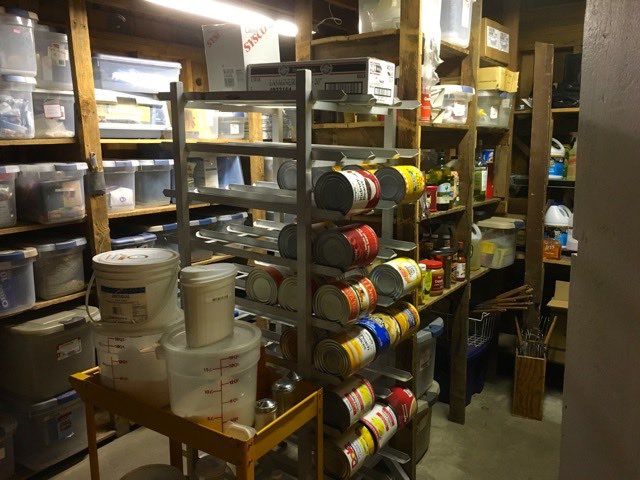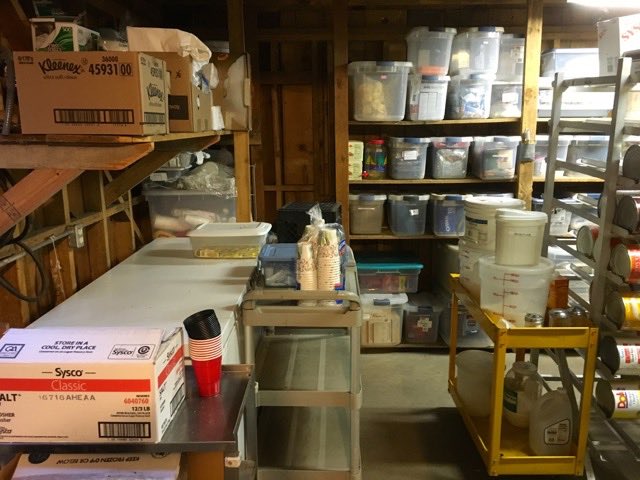 Dry storage consisted of the back area of the kitchen.
Everything that was not in plastic, glass or metal containers had to go in these plastic storage tubs. The mice were ferocious in their attempts to get into the food.
I can say with certainty that I had it easy compared to many a camp cook but I certainly worked my ass off in the process!
The Rewards of being a Camp Cook
Certainly everyone treats you with respect – they obviously want to eat good, so that is a big win.
Snacking while you cook, is a big perk if you want to put on 20 lbs.
The eager faces asking what is for breakfast, lunch or dinner, always brought a smile to my face.
The hundreds of "thank you's" is rewarding and greatly appreciated.
People going back for seconds and thirds is a big win.
But for me, it was all about the smiles and joy on the children's faces as they devoured their food, laughed and complimented the cooks on how great the food was.
Will I do it again?
After so many hugs and thank you's from the campers … how could I not!
Gary
Save
Save