Now this is an interesting twist on the traditional type of ice cream recipes I have done in the past. Guinness® Stout Ice Cream made from evaporated and condensed milks with just a tad bit of salt and sugar – plus a 6 pack of Guinness® Stout.
Yea, I know, the recipe only calls for a 1/2 cup of Guinness® Stout, please don't judge …
Once again, I used my Aroma Old Fashioned Ice Cream Maker to make this Ice Cream recipe: Aroma 4-Quart Traditional Ice Cream Maker – Review.
Guinness® Stout Ice Cream Recipe
Guinness® Stout Ice Cream Recipe
Prep time:
Cook time:
Total time: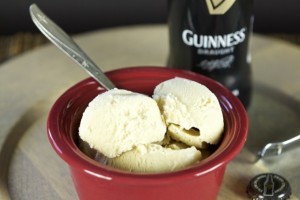 Ingredients
1 cup water
2 tablespoons cornstarch
½ cup sweetened condensed milk
1½ cups evaporated milk
¼ teaspoon salt
½ cup sugar
½ cup Guinness® Stout
Instructions
In a heavy sauce pan whisk together the water in the cornstarch, simmer the mixture over moderate heat, whisking for two minutes.
Add the milks, sugar, and the salt.
Heat the mixture over moderately low heat, whisking for 1 to 2 minutes, or until sugar is dissolved.
Remove the pan from the heat and let the mixture cool completely.
Stir in Guinness® Stout, and freeze the mixture in ice cream machine according to the manufacturers instructions.
Looking for more Home Made Ice Cream Recipes?
Homemade Blueberry Ice Cream Recipe
Homemade Cinnamon Butter Pecan Ice Cream Recipe
Homemade Cinnamon Butter Pecan Ice Cream Recipe
Chocolate Chip Cookie Dough Ice Cream Recipe